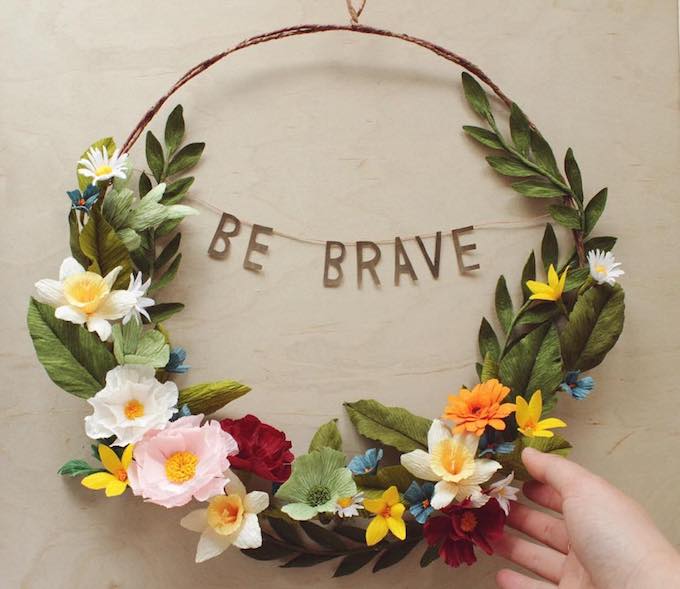 If you're still feel­ing down about recent events (I know I am), Grace Chin offers a beau­ti­ful pick-me-up with her empow­er­ing flo­ral wreaths. Com­bin­ing paper craft with text, she cre­ates del­i­cate faux flow­ers and arranges them onto a cir­cu­lar form. In the mid­dle of it, she places cut-paper let­ters phras­es like "All bod­ies are good bod­ies" and "Be brave."
She writes,
My work is inex­tri­ca­bly tied to my pas­sion for inter­sec­tion­al fem­i­nism and fight­ing neg­a­tive forces— both polit­i­cal and personal—with words. I sin­cere­ly believe in the pow­er of inter­nal­iz­ing and imbib­ing pos­i­tive mes­sages. In par­tic­u­lar, I'm in search of pithy, com­pelling state­ments that are meant to occu­py pri­mar­i­ly domes­tic spaces and serve as dai­ly reminders.
Grace con­tin­ues,
Com­po­si­tion­al­ly, I take influ­ence from the Dutch tra­di­tion of pronkstilleven (deca­dent still life paint­ing), as well as out­sider and Amer­i­can folk art. In posi­tion­ing myself firm­ly between craft and art tra­di­tions, I hope to do what many women artists and arti­sans did before me: cre­ate beau­ti­ful every­day objects that also serve some use­ful­ness beyond their aes­thet­ic val­ue.
Grace sells her work (includ­ing these wreaths!) through her online shop.