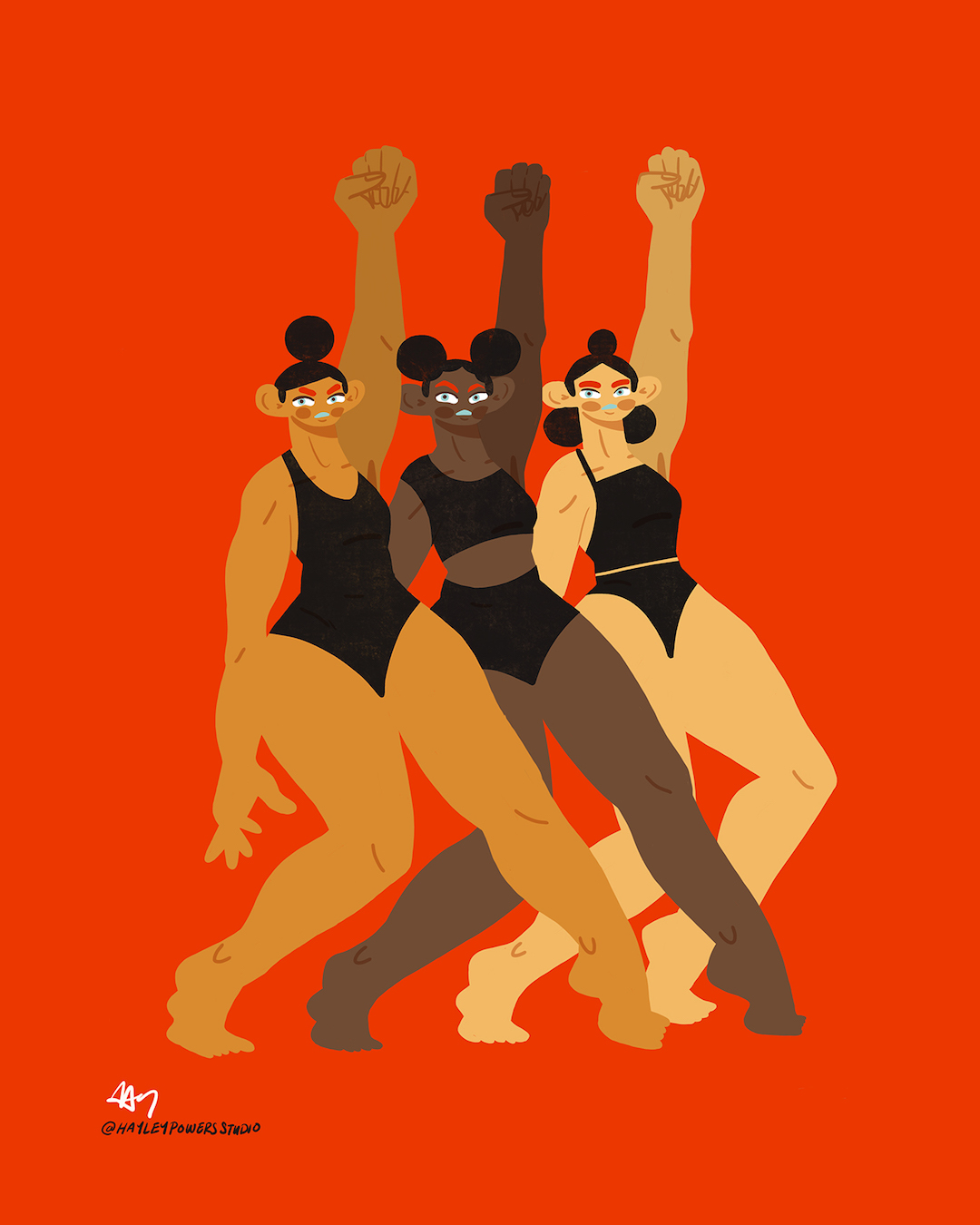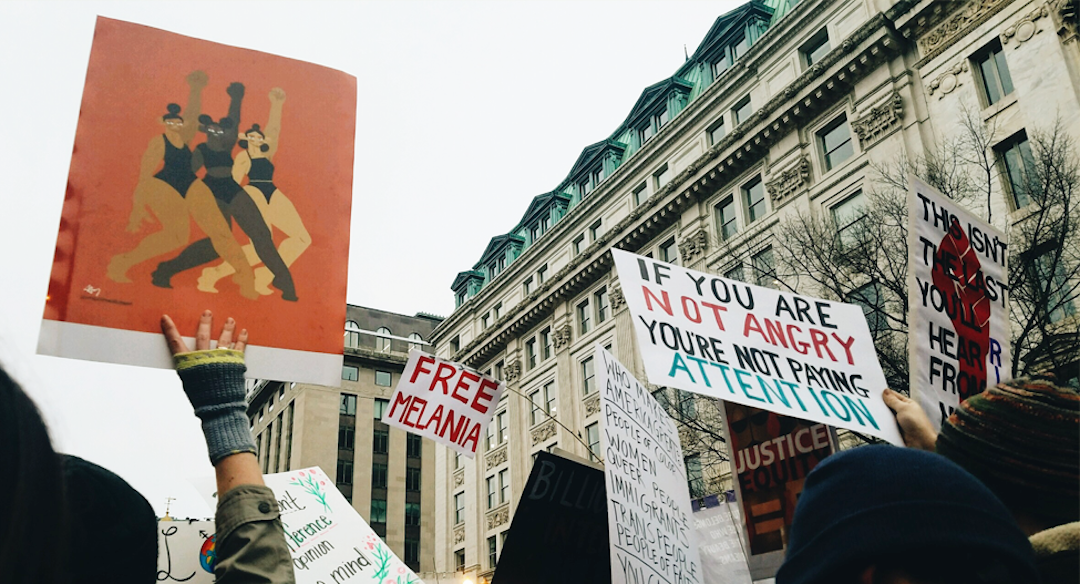 I first met Hay­ley Pow­ers Thorn­ton-Kennedy when I vis­it­ed the MFA Illus­tra­tion Prac­tice pro­gram (MFA ILP) as a guest crit­ic and lec­tur­er. In their cozy, well-lit stu­dio, she showed me a selec­tion of sig­nage she had cre­at­ed for the Women's March on Jan­u­ary 21. I was instant­ly attract­ed to the bold illus­tra­tions and, above all, imagery fea­tur­ing strong female fig­ures. I had the oppor­tu­ni­ty to talk to Hay­ley more about her work, both in per­son and via email. The con­ver­sa­tion and her illus­tra­tions seem espe­cial­ly fit­ting for today's Inter­na­tion­al Women's Day and A Day With­out Women.
Hay­ley hails from the West Coast but made her way East for col­lege. After grad­u­at­ing, she worked many dif­fer­ent types of jobs. (We both lament­ed how we grad­u­at­ed in 2008, the height of The Great Reces­sion, and how much that sucked.) Hay­ley did, how­ev­er, make her way into the design world. Although she recent­ly switched gears into illus­tra­tion, there's an under­ly­ing theme to Hayley's work, and that's cre­ative prob­lem solv­ing. What's the best way artic­u­late your mes­sage? For Hay­ley, it's imagery that fea­tures bold col­ors and inclu­sive sub­ject mat­ter. It's also about acces­si­bil­i­ty. For the Women's March, her signs were (and still are) avail­able for down­load, free of charge.
Illus­tra­tion is inti­mate­ly tied to our cul­ture. It's some­thing that's easy to for­get, because it encom­pass­es a lot, from the design print­ed on your cof­fee sleeve to a thought-pro­vok­ing New York­er cov­er. Illus­tra­tion is a sav­ior in dif­fi­cult times and says what words can­not. Dur­ing the Paris attacks of 2015, Jean Jullien's Peace for Paris became an instant sym­bol of the tragedy. But just as impor­tant, illus­tra­tion is also a form of dis­sent. In Hayley's case, it's a call to arms to resist the Trump admin­is­tra­tion and all its hate and fear mon­ger­ing. Remem­ber, illus­tra­tion is a vehi­cle for social change, in addi­tion to being some­thing that's print­ed on your favorite t-shirt.
Read my inter­view with Hay­ley, below. And be sure to fol­low her work on Insta­gram. She's always post­ing great stuff.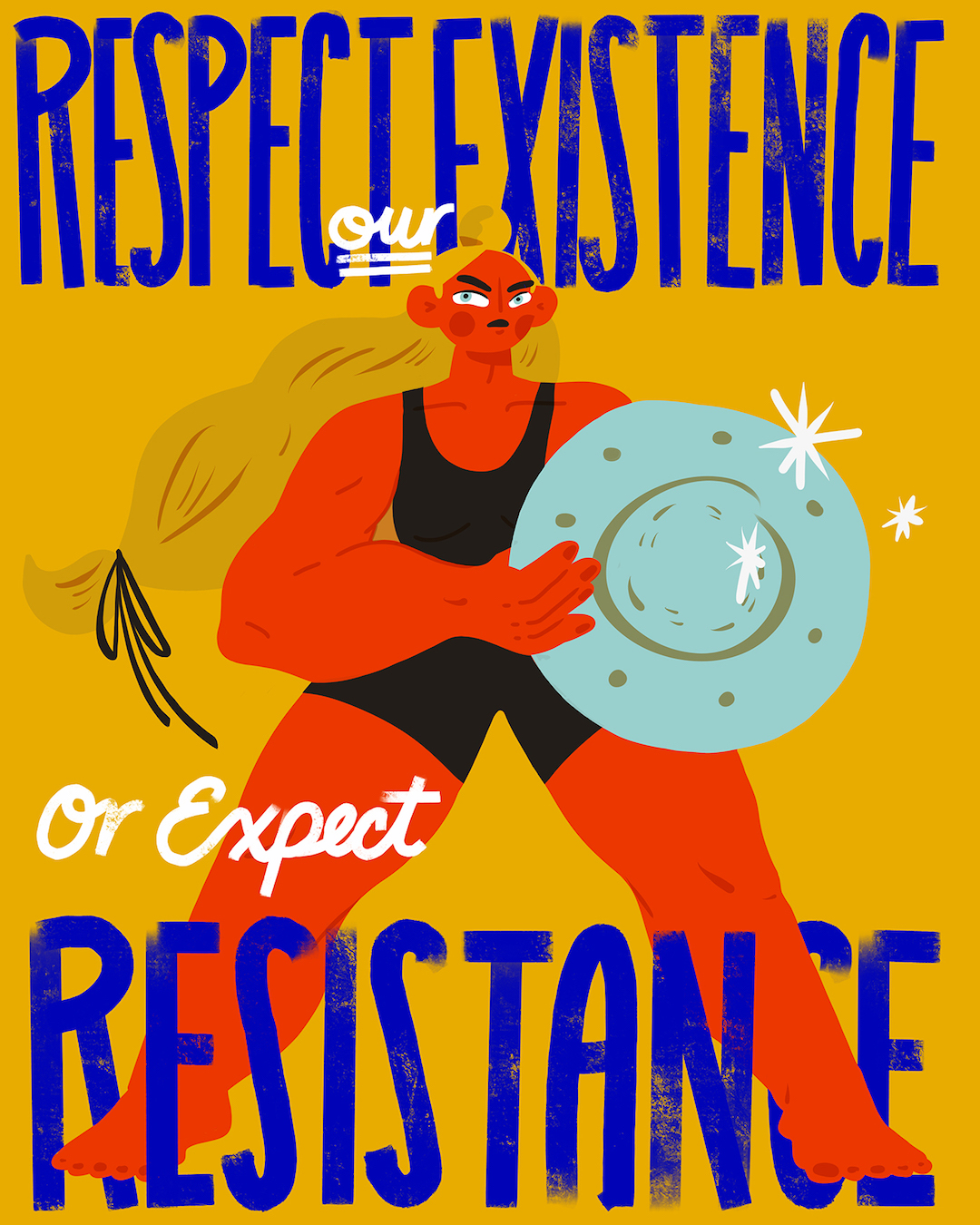 Obviously, I met you in the context of

MFA

ILP

, so you're in deep with illustration at the moment. What was your life like before the program? I saw you worked in web design. How has that shaped your illustration?
Before I applied to MICA I had been work­ing as a web design­er pri­mar­i­ly, while also tak­ing on oth­er design projects involv­ing brand­ing, logo design, etc. I was a free­lancer, and I attract­ed clients who want­ed to see col­or­ful, play­ful work. I liked to draw in my spare time and had start­ed to sneak illus­tra­tion into my client work when­ev­er I got the chance to. I hadn't found my style yet, so I was exper­i­ment­ing with dif­fer­ent looks, and how I could inte­grate those styles with dif­fer­ent clients. How­ev­er the assets I was mak­ing weren't very 'deep' on a cre­ative lev­el. Lots of flat vec­tor icons of lit­tle lap­tops and office-y things.
Although my focus has shift­ed to illus­tra­tion (which I am SO hap­py about) I feel like all my past cre­ative expe­ri­ences have an impact on the work I'm mak­ing now, and the work I'll make in the future. I'm a big pro­po­nent of being a life­long learn­er, so I believe that (espe­cial­ly as mak­ers) our skills, ideas and influ­ences are cumu­la­tive. Even if we move into a new medi­um, how we approach that work is influ­enced by what we've been exposed to and exper­i­ment­ed with before. Recent­ly I've been focus­ing most­ly on the for­mal issues sur­round­ing my illus­tra­tions like style, col­or, and line but my expe­ri­ence in the tech field is def­i­nite­ly inform­ing how I'm approach­ing the reach of my work. I'm using social media as a way to sig­nal boost and dis­trib­ute the issues and work that is most impor­tant to me. I'm also work­ing on more comics, and approach­ing sequen­tial nar­ra­tives is real­ly sim­i­lar to trou­bleshoot­ing UX (user expe­ri­ence) on web projects. Both relate to visu­al sto­ry­telling by guid­ing the eye through an infor­ma­tion-dense expe­ri­ence.
A selection of Hayley's comic called Day nine. You can read the entire thing here.
I also that you're the web editor for Blunderbuss Magazine. Can you talk about it and your role there and if that's changed over the years?

BTW

: I read your comic that appeared on it—very powerful. Are you going to do more comics for it?
Blun­der­buss is so great. It's run by such tal­ent­ed, com­pas­sion­ate peo­ple! My role is cur­rent­ly in title only as my time is extreme­ly lim­it­ed. But I designed and devel­oped the web­site, and did web­site and trou­bleshoot­ing for the online mag­a­zine while I lived in Brook­lyn (along with the major­i­ty of the oth­er edi­tors). The mag­a­zine has done a lot of grow­ing in the few years it's been around, and recent­ly put out their first quar­ter­ly print issue. I did the cov­er illus­tra­tion for that, and have been con­tribut­ing to the mag­a­zine as an artist and writer more often than a code tin­ker-er late­ly. I'm glad you liked the com­ic! It was real­ly just an over­whelm­ing reac­tion to the speed and sever­i­ty of all the ter­ri­ble actions being car­ried out by this admin­is­tra­tion that I had to put into words and pic­tures. As I pro­duce more comics I hope to con­tin­ue to use Blun­der­buss as a plat­form.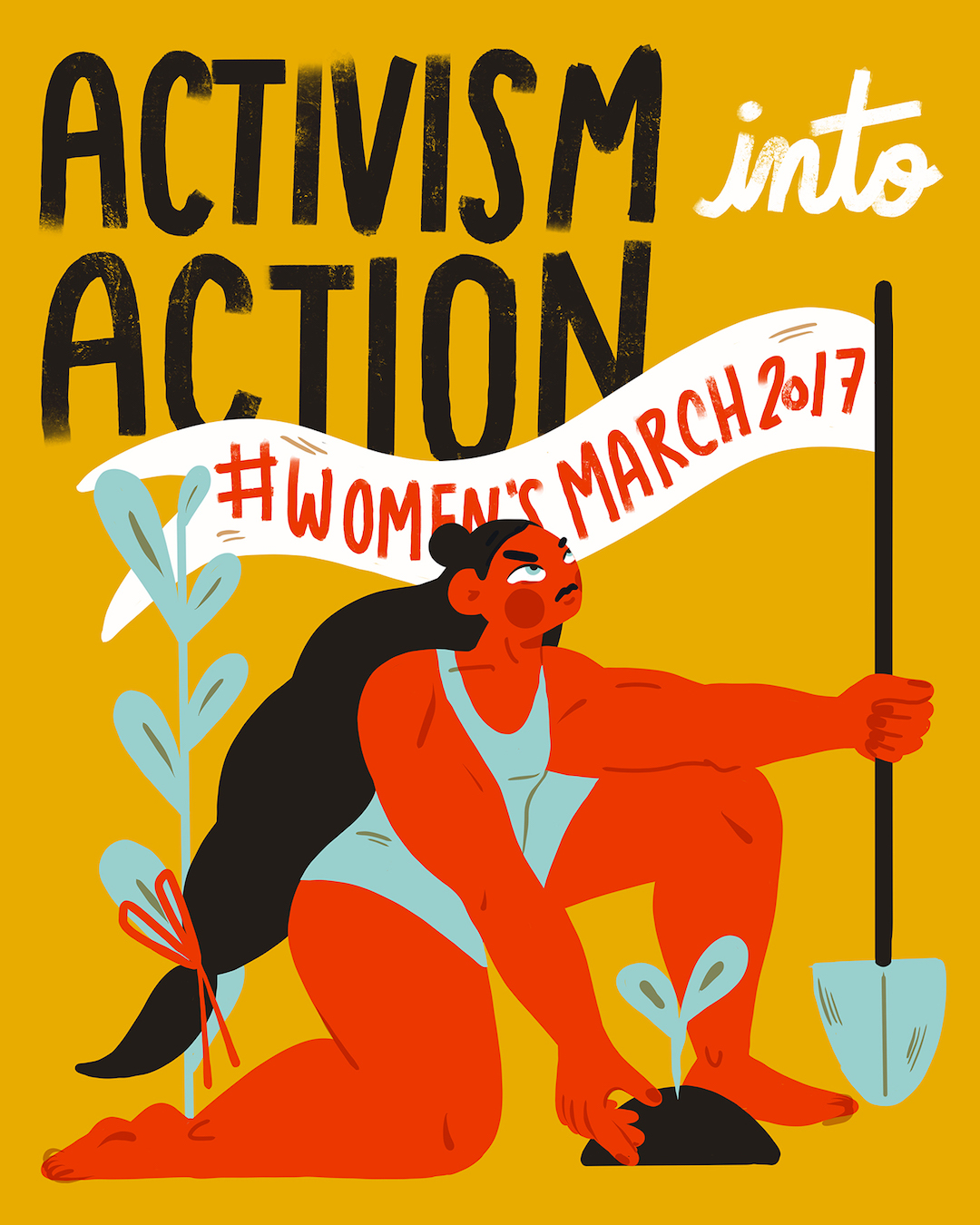 You completed the 100 day project that focused on girls girls girls! What inspired you to take on this project, and what did you learn from it? Did it inspire your Women's March signs at all? I can see similarities between the two.
Yeah! This project actu­al­ly was the begin­ning of the style and the sub­ject mat­ter that I'm pur­su­ing now. Last sum­mer I was get­ting ready to be mar­ried and was real­ly stressed out by the expec­ta­tions that the wed­ding indus­try bur­dens peo­ple with, par­tic­u­lar­ly with the pre-pack­aged idea of what con­sti­tutes 'fem­i­nin­i­ty.' I've always been a tomboy, and no mat­ter how much i've been pres­sured into look­ing or act­ing a cer­tain way, I'll always look and feel a lit­tle boy-ish. I feel pret­ti­est when I feel strong and con­fi­dent, so I want­ed to start draw­ing fig­ures to reflect that.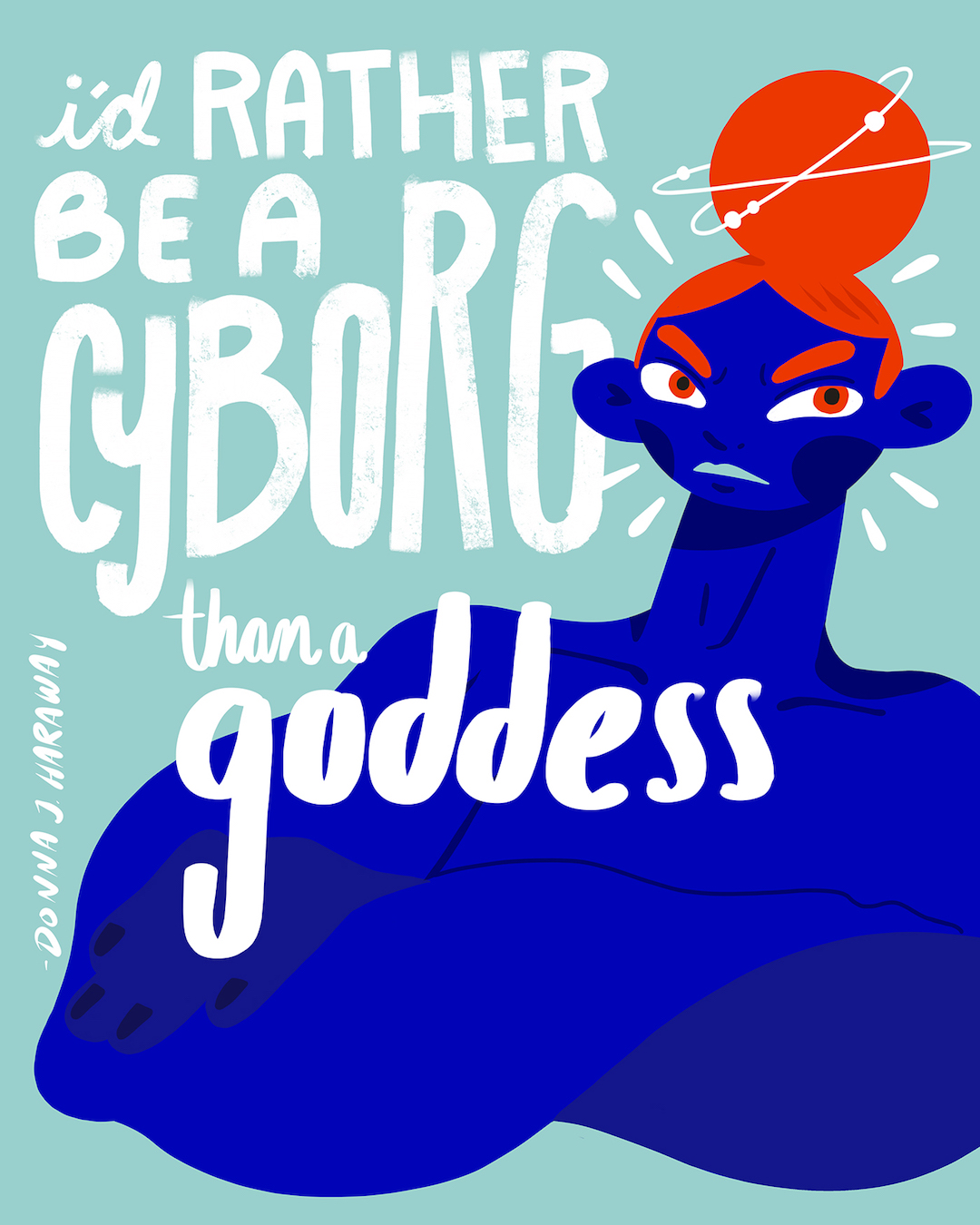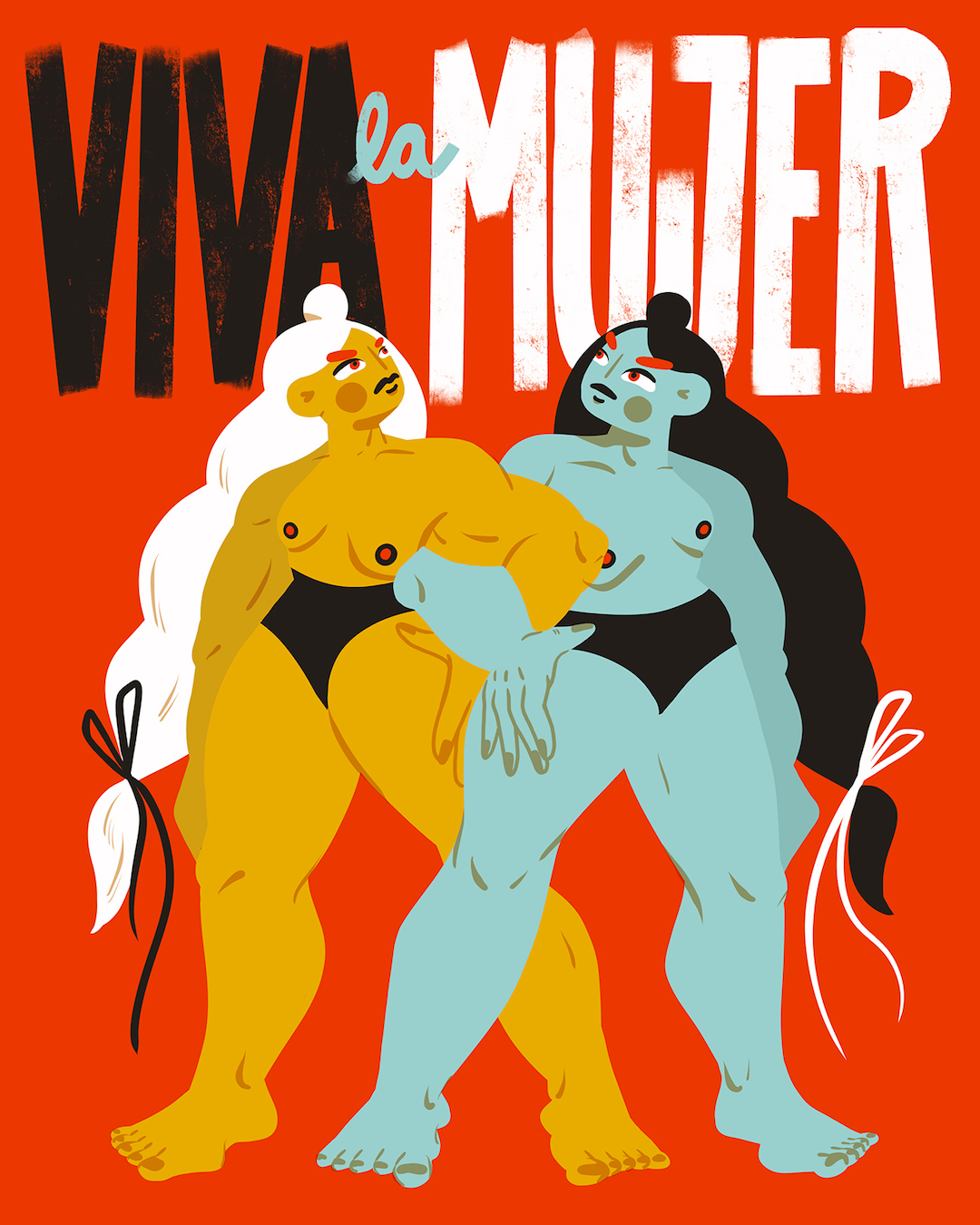 How do you define your role as an illustrator in our ever-changing world? And, how do you view illustration and activism working in tandem? Right now you've created a bevy of readily-available signs—where do you see it going from there? What inspired you to create the signs in the first place? Have you always viewed your illustrations to comment on the current state of affairs? If no, was this election cycle the impetus for it?
I had been plan­ning on attend­ing the Women's March in Wash­ing­ton DC for a while, and as an illus­tra­tor I put lots of pres­sure on myself to have a great poster. But there were so many dif­fer­ent things I was upset about, it was dif­fi­cult to focus my mes­sag­ing. So in the week lead­ing up to the March I decid­ed I would open 10 com­mis­sion slots for free posters with an illus­tra­tion and a request­ed slo­gan. I announced this on Face­book and Insta­gram think­ing I wouldn't even fill the com­mis­sion spots, but received an over­whelm­ing response. I drew 10 posters in 5 days, and made one poster avail­able for any­one to down­load, print, and car­ry in the march. These posters were car­ried by women at march­es in Los Ange­les, San Diego, Chica­go, Philadel­phia, New York City, Wash­ing­ton D.C., and Barcelona. I was amazed to see the reach of my work, and was proud to be so many places at once.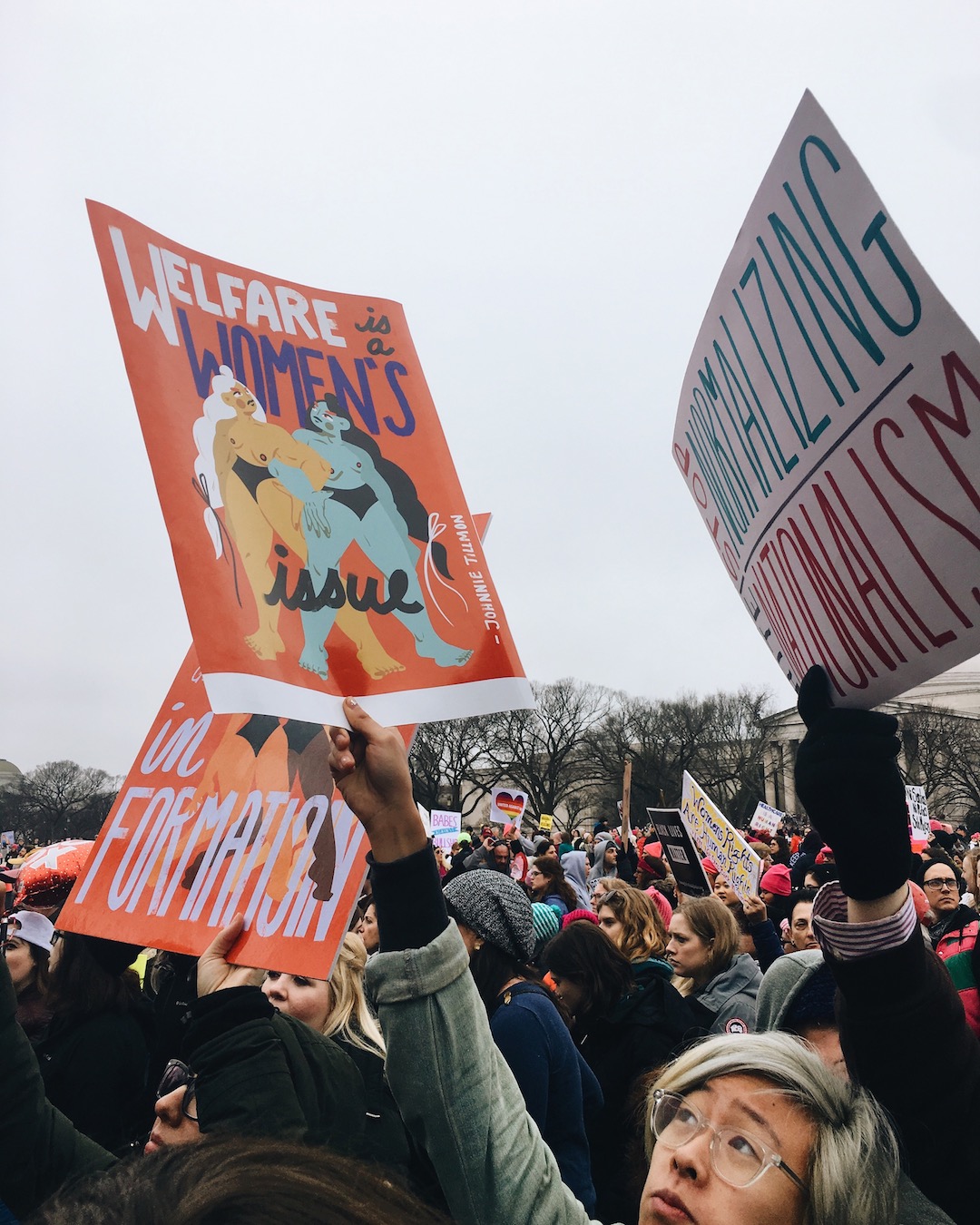 (con­tin­ued) I want to main­tain cul­tur­al rel­e­vance in my illus­tra­tions, and I hope my approach to fem­i­nism and the strong female fig­ure will always be a cen­tral theme in my prac­tice — but first and fore­most I'd like to con­tin­ue mak­ing work that I feel con­nect­ed to. I also received tons of sup­port and encour­age­ment when I start­ed to share my illus­tra­tions depict­ing fem­i­nism, pow­er­ful bod­ies, and pro­gres­sive mes­sag­ing, which gave me the con­fi­dence to become more polit­i­cal with my illus­tra­tion and begin to make draw­ings that put my beliefs, and my rage, front and cen­ter.
The cur­rent polit­i­cal cli­mate of racism, misog­y­ny, trans­pho­bia, islam­o­pho­bia ETC has def­i­nite­ly inten­si­fied the urgency of my work. There is so much emo­tion you can pack into an illus­tra­tion, and now, with the reach of social media, those images can res­onate with hun­dreds if not thou­sands of peo­ple in one day. A draw­ing may not bring about an avalanche of social change, but if it can make one woman feel stronger, less dis­en­fran­chised, or ener­gized to engage polit­i­cal­ly, I'll have made an impact, and that idea makes me so hap­py.
(con­tin­ued) On the flip side of appre­ci­at­ing the pow­er in the illus­trat­ed image, I want to rec­og­nize that some­times just draw­ing some­thing and post­ing it on social media feels like a hol­low act. I'm active but I can't call myself an activist. I think we can all look at our lives and find ways in which we can incor­po­rate acts of resis­tance and activism into our day. I'm always at the stu­dio work­ing on school­work late­ly, which lim­its the time I'm able to spend on express­ing my beliefs and sup­port­ing the com­mu­ni­ties most affect­ed by the afore­men­tioned 'isms. So I'm try­ing to engage in the com­mu­ni­ty I'm a part of by just being present on my morn­ing commute.It doesn't feel like much, but eye-con­tact, a smile, and say­ing "good morn­ing" can go a long way in a city envi­ron­ment where peo­ple don't feel con­nect­ed to each oth­er at all.
I don't know where I'll go next with this work specif­i­cal­ly, but I have some ideas for zines that prompt acts of resis­tance and deep­er polit­i­cal think­ing (because I'm aware that my beliefs aren't the end all be all of pro­gres­sive polit­i­cal opin­ion). I'd also like to make my posters into post­cards, and include a list of address­es of polit­i­cal offices in the pack, prompt­ing the audi­ence to use the cards to voice their dis­con­tent. And per­son­al­ly I'm inter­est­ed in study­ing the rela­tion­ship of art and activism fur­ther. I'm plan­ning on hold­ing a work­shop at MICA soon in which we will be look­ing at a his­to­ry of resis­tance art and send­ing let­ters and pieces of art­work to polit­i­cal offices.
Are you going to continue this path of illustration activism into your thesis year?
It'd be real­ly great to con­tin­ue this thread of activism into the­sis year, and I think that my work will be stronger if I weave in my polit­i­cal vin­di­ca­tions and reac­tions to the cul­tur­al cli­mate into the nar­ra­tive. So I don't see myself shy­ing away from using illus­tra­tion as a tool to voice my beliefs any­time soon. And although it is sub­tle at times, you can be sure that every strong bicep, fierce eye, female caress, and unruly body hair that I draw is an inten­tion­al kick in the shin of the patri­archy.