INTRODUCING a new Brown Paper Bag project! Own a new mini print each month by a dif­fer­ent artist!
So, ever since I redesigned Brown Paper Bag, I knew I want­ed the head­er image to be more than just a brown paper bag. There are so many amaz­ing artists and illus­tra­tors in the world (just spend some time look­ing in the archives) that I thought, "maybe some­one else could illus­trate an awe­some head­er!"
And thus, the Head­er Pic­ture Project was born. Every month, I'll launch a new head­er image for the top of Brown Paper Bag by a dif­fer­ent artist/illustrator/designer. The best part about this? You can own a mini print of the image that's fea­tured!
So, with­out fur­ther ado, here's the inau­gur­al illus­tra­tor for the Head­er Pic­ture Project, Per­rin!
The print (pre­order it here):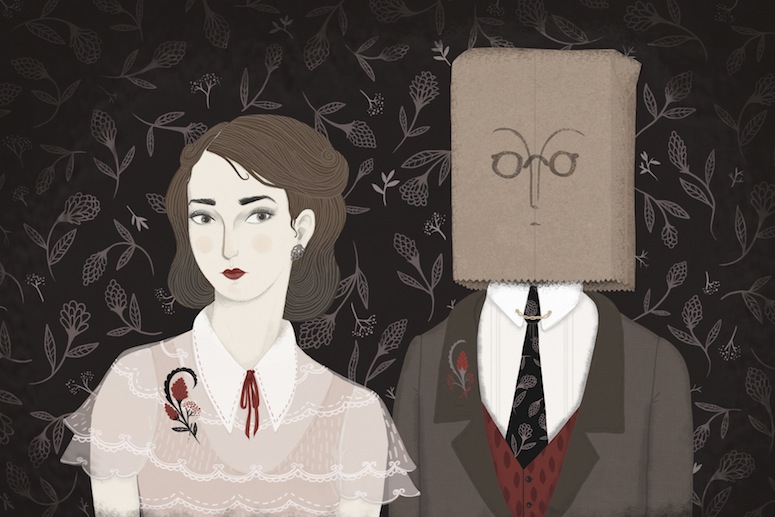 The head­er image for Brown Paper Bag:

I asked her a few ques­tions about her­self and her work. To learn more, check out her web­site and oth­er beau­ti­ful illus­tra­tions.
Name: Per­rin
Loca­tion: Prac­ti­cal­ly in Lake Erie
Web­site: www.madebyperrin.com
What was your dream job when you were 7 years old? I want­ed to do voice-overs for com­mer­cials.
Your pro­fes­sion now: Mover & Shak­er; Pic­ture-mak­er.
What's your favorite thing to draw? Any­thing del­i­cate & tedious, maybe beau­ti­ful, but prob­a­bly weird.
What was the inspi­ra­tion for this piece? I was giv­en the blog's name­sake as a jump­ing off point and want­ed to cre­ate a mys­te­ri­ous and nar­ra­tive piece. I had been look­ing at a lot of vin­tage pho­tos from the 40s and was real­ly attract­ed to the fash­ions, col­ors, and styling. I knew I want­ed to make some­thing in that world.
Who is the guy with the bag on his head? Thats the mys­te­ri­ous part! I real­ly hope to give the view­er room to inter­pret him how­ev­er the sto­ry plays out in their minds. (p.s. if any view­ers want to sub­mit the answer to this ques­tion I would be keen to know what they come up with!)
How did you cre­ate your illus­tra­tion? Was this any dif­fer­ent from your reg­u­lar process? I worked dig­i­tal­ly on a Wacom tablet in ye old Pho­to­shoppe. I built every­thing up in full col­or before desat­u­rat­ing all the col­ors in the end to mim­ic the appear­ance of an old pho­to­graph. I left a lit­tle bit of my sketch lay­er show­ing through to soft­en things.
and final­ly: Who is Blanche DuBun? Enlight­en those that don't know: WELL, she is my muse, side­kick, and fur­ry pal. She is my pet rab­bit; a real fun­ny bun­ny.