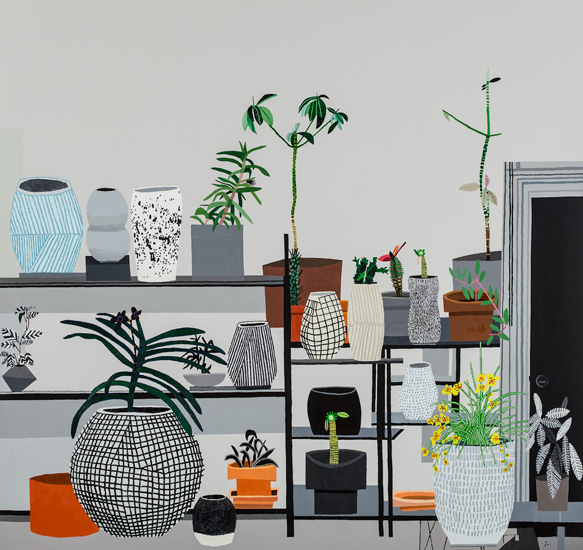 I just fin­ished installing an exhi­bi­tion at EMP Col­lec­tive in Bal­ti­more where I arranged small items and art objects in a room (more on that at a lat­er date). So, see­ing Jonas Wood's arranged still lifes real­ly inter­est­ed me. The artist paints inte­ri­ors, pot­ted plants, fish tanks, and more. They are in a flat, graph­ic style that ya'll know I love.
Paint­ings like Jonas' give us the abil­i­ty to be voyeurs with­out con­se­quence. We spy on the peo­ple who inhab­it these spaces, tak­ing in what their tastes are, inter­ests, and more. Depend­ing on how things are arranged and kept, we could even assume things about their per­son­al­i­ty, too. Not only is Jonas' work beau­ti­ful and treat to look at, it's a treat to think about, too.
All images via David Kor­dan­sky Gallery, where he is rep­re­sent­ed.