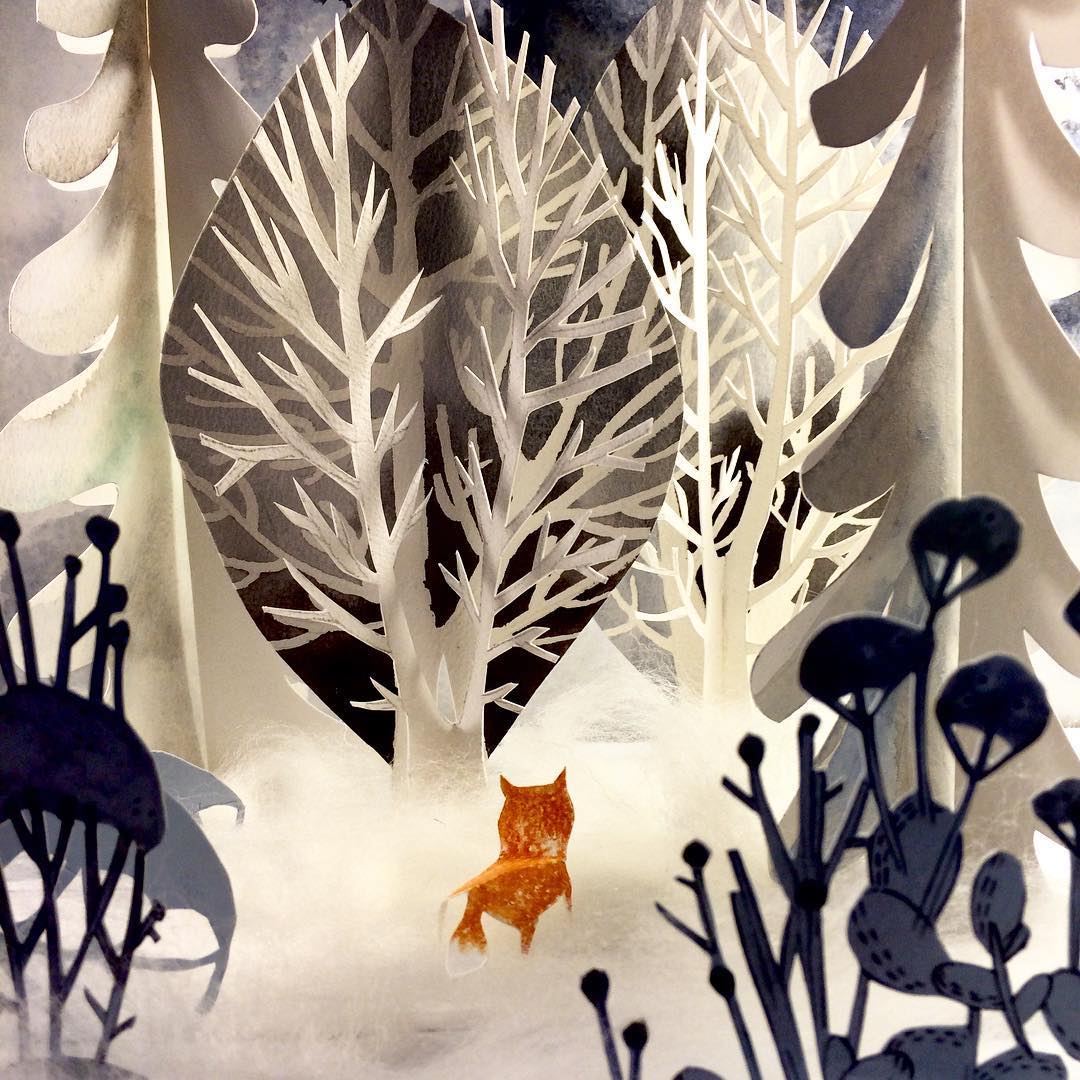 Kel­ly Pousette cap­tures sto­ry­book scenes in paper dio­ra­mas. The shad­ow­box illus­tra­tions are vignettes that chron­i­cle the adven­tures of a small fox as it tra­vers­es win­tery scenes, naps by a cozy fire, and enjoys the beau­ty of blooms.
Every­thing is cre­at­ed with a flu­id, painter­ly feel; Kel­ly uses tools like char­coal, water­col­or, and con­te cray­on to pro­duce her images, and styl­is­ti­cal­ly, this sets her apart from oth­er shad­ow­box­es I've seen. In her approach, edges dif­fuse and bleed into one anoth­er, but it doesn't take away from the dimen­sion­al­i­ty of her com­po­si­tions.
Kel­ly offers some insight to how she makes her work. "Basi­cal­ly I cut every­thing by hand, and then fix all the dif­fer­ent pieces to stand," she explains. "Depend­ing on the detail, some pieces take longer the oth­ers. I then use light­ing or even the nat­ur­al light in my stu­dio to cre­ate shad­ows. Some­times mov­ing one sin­gle piece cre­ates a com­plete­ly dif­fer­ent mood. I love it."
See Kelly's work in progress on Insta­gram. (She's one of my 10 inspir­ing paper artists to fol­low!) She also sells some of her work through her Etsy shop, Once Upon a Lit­tle Fox.
Illustrator Kelly Pousette creates cut paper dioramas that chronicle the storybook adventures of a curious fox.