It's no secret that learn­ing new things helps keep your brain sharp. In art, it's espe­cial­ly valu­able to take time and gain a new skill. Doing so, at the very least, can improve the way you work. But more impor­tant­ly, it can change the way you think about your art. Luck­i­ly, you can learn new things from the com­fort of your own home. That's where Skill­share comes in. They've got 15,000 online class­es avail­able for you to take from peo­ple at the top of their field. I recent­ly enrolled in a class that I was eager to try: Illus­tra­tion & Inspi­ra­tion: Keep­ing a Sketch­book by Leah Goren. You too can try this class with 2 free months of Skill­share Pre­mi­um.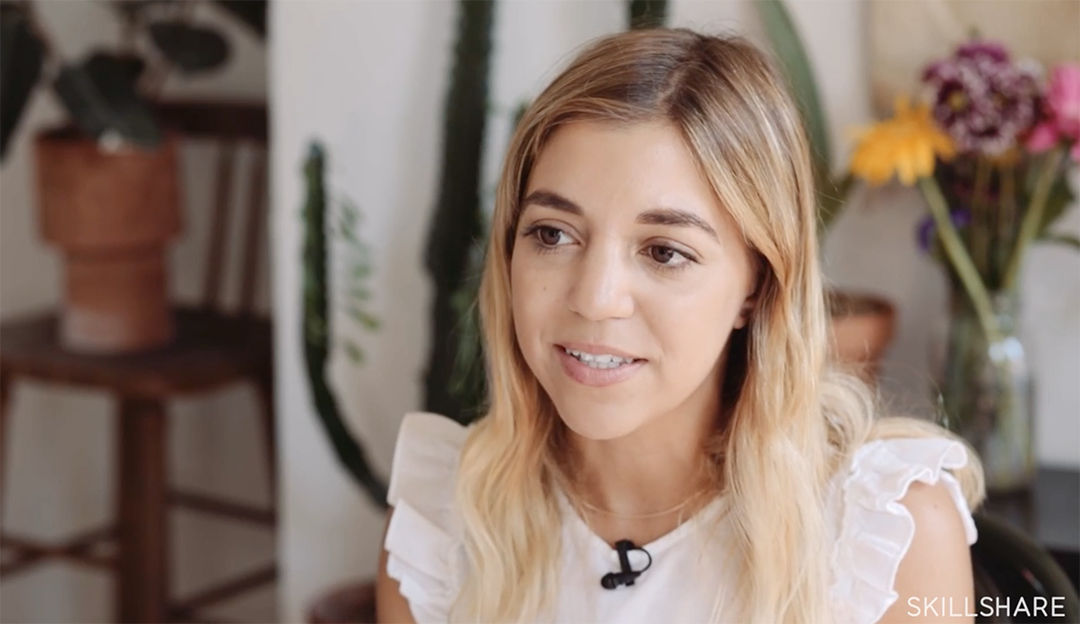 I am not good at keep­ing a sketch­book. I've nev­er been good at it. Every page is so pre­cious to me, and if I don't like some­thing, I end up start­ing over on the next page. So when I get to the end of a book, it's all these weird, half-drawn pages that are try­ing too hard to look nice. I want­ed to know how Leah does it, because her pages are a stun­ning col­lec­tion of illus­tra­tions.
Turns out, she starts over too! In the begin­ning of the class—which is con­duct­ed in Leah's sun­ny apart­ment in Brooklyn—she shares pages from her sketch­book. There are plen­ty of things, as she points out, which are weird or don't exact­ly work. There are also pages where she's repaint­ed things. And that's okay. A sketch­book doesn't need to be pre­cious. It's a place to explore ideas. For Leah, this explo­ration has been invalu­able, and her fas­ci­na­tion with sub­jects like surfers and cir­cus folks has found its way from her sketch­book pages to prod­ucts now on the mar­ket.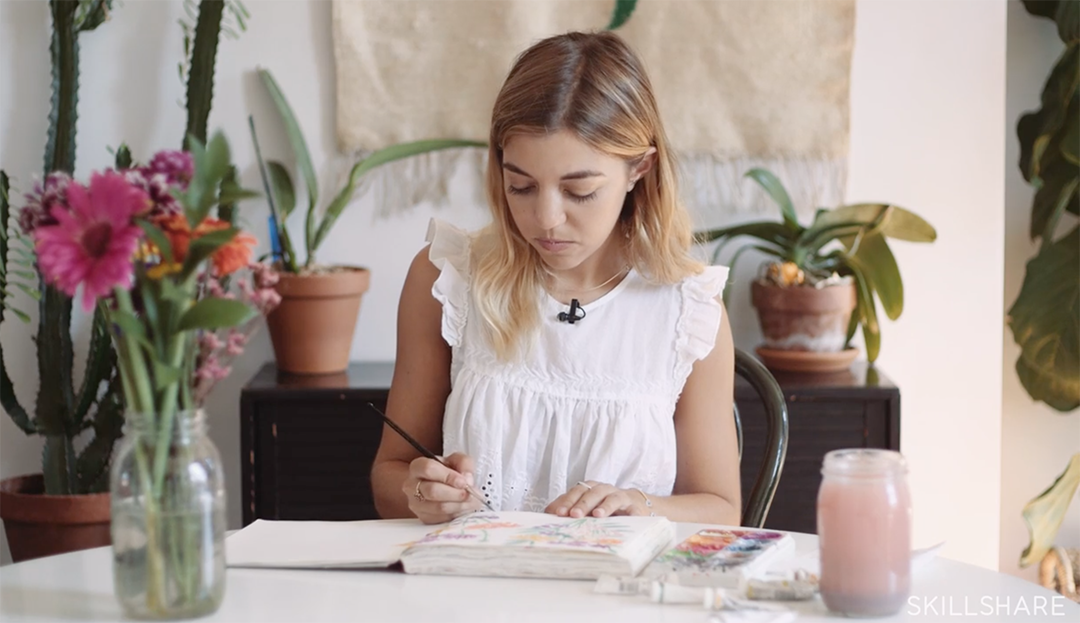 The class is short at just 31 minutes, but it covers three exercises: drawing patterns; drawing from life; and drawing your space.
Each video shows Leah paint­ing with gouache in her sketch­book, based the the prompts. As she's doing this, she offers insight to what's she's doing. Par­tic­u­lar­ly, why she's mak­ing the deci­sions she's mak­ing. This is eas­i­ly the best part of the class. It's her shar­ing how she thinks, which is the key to these illus­tra­tions that so many of us (includ­ing me) fall in love with. The tiny things she does dur­ing her sketch­ing is what make her work tru­ly unique. From decid­ing to paint the same leaf a cou­ple of times to includ­ing an elec­tri­cal out­let in her com­po­si­tion, it all adds up to a fan­tas­tic image.

I like this class because from the out­set, it seems real­ly doable. It requires just a few basic materials—a sketch­book, water­col­or or gouache, and pens (option­al). The exer­cis­es are rel­a­tive­ly sim­ple in con­cept, but you can make them real­ly elab­o­rate in your own sketch­book. They're also prompts you can use time and again. This offers a great way to gauge how your work has changed over time.
I don't have gouache, so I used water­col­or. (I'm scared of gouache, but maybe Skill­share's class­es will assuage my fears.) The prompts were a lot of fun! Draw­ing from life is def­i­nite­ly the way I like to work, but sketch­ing with a paint­brush was dif­fer­ent; nor­mal­ly, I start with a pen­cil. I'll prob­a­bly con­tin­ue to hone this "draw­ing with a brush" because it was very free­ing and spon­ta­neous. Here's one of my paint­ings from the "draw­ing from life" exer­cise:
Leah's guid­ance and inspi­ra­tion is some­thing I'll keep in mind for future sketch­ing. Anoth­er oth­er thing that Leah talks about is how to trav­el with a sketch­book and paints. I'm doing some trav­el­ing soon, and it's advice I'll take head­ing to the desert. Paint­ing cac­ti among the red rocks of south­ern Utah sounds like a lot of fun.
I encour­age you to give Skill­share a try, and this is the per­fect time to do it. I've got a deal for 2 months of Skill­share Pre­mi­um for free!
This post is sponsored by Skillshare but words and opinions are my own. Thanks for supporting the brands that support Brown Paper Bag!