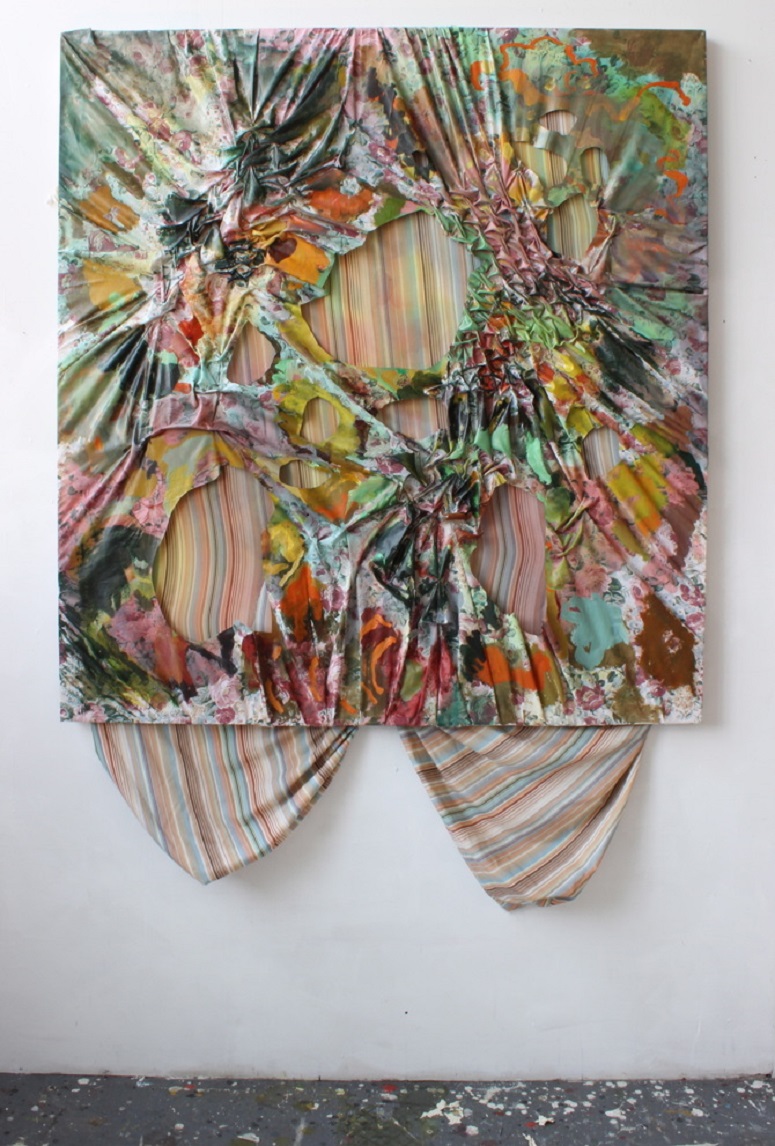 In 2010, I attended the Ver­mont Stu­dio Cen­ter for an artist res­i­dency. (To any­one who is con­sid­er­ing apply­ing — you should! I had a great expe­ri­ence.) There, I met Maria Brit­ton, a fel­low artist in a dif­fer­ent stu­dio. At the time, she was paint­ing abstract images on sheets stretched taut over stretcher bars.
Fast for­ward to lately, and I thought about Maria and her work. What does it look like now? Upon Googling her, I see she's still work­ing on sheets, but in a more refined way. Now, instead of sim­ply paint­ing on top of them, she works into them, incor­po­rat­ing embroi­dery, tech­niques. Here's a state­ment about her work:
From con­cep­tion to death, the sur­face of a bed is a place where one both expe­ri­ences and escapes real­ity, a phys­i­cal con­nec­tion between dream­ing and wak­ing life. In the stu­dio I seek out home­spun inno­va­tions to play up the mate­ri­al­ity of the pat­terned sheets on which I have been paint­ing for the past 10 years. Recently I have started to incor­po­rate smock­ing, a form of embroi­dery, into my paint­ings which enables me to manip­u­late the sur­face of a sheet into a bumpy, tex­tured, and pat­terned sur­face. After the hand stitch­ing is done on the reverse side of the sheet, I then care­fully stretch the sheet on a stretcher, keep­ing an eye on what each pull does to the sur­face. Using washes, glazes, and streaks of acrylic, I work intu­itively and impul­sively with brushes, sponges, and squeegees. While paint­ing, I am com­pelled to con­ceal and reveal the dated flo­ral pat­terns that I find simul­ta­ne­ously com­fort­ing and repul­sive. The end result is a mish­mash of paint­ing and crafty tech­niques which trans­form the pre­dictable pat­terns into wrin­kled innovations.