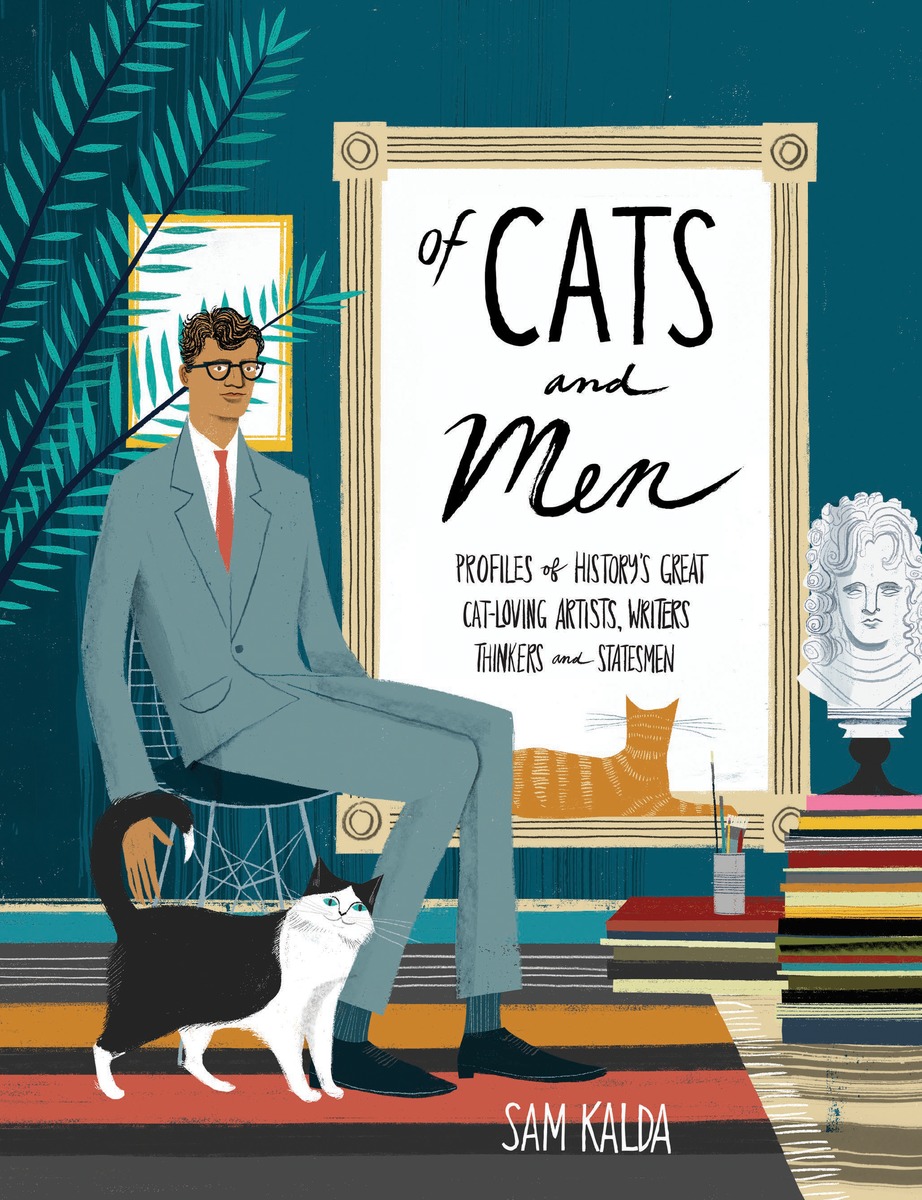 "Men are often por­trayed in the com­pa­ny of dogs," Sam Kal­da writes in his book Of Cats and Men. "They hunt togeth­er, run hap­pi­ly side by side, and ride shoul­der to shoul­der in mud-splat­tered pickups—the per­fect image of mas­cu­line bliss. The dog is, after all, man's best friend. Some men, that is." But what about the feline mus­es that inspired some of history's great artists, writ­ers, and thinkers? Well, they're pro­filed in this beau­ti­ful­ly illus­trat­ed and delight­ful­ly writ­ten book.

From Andy Warhol to Mark Twain to Sir Win­ston Churchill, Sam has paint­ed styl­ish por­traits of each of them. Every illus­tra­tion is accom­pa­nied by a short but detailed descrip­tion of who these men are and how a cat impact­ed their career. Some­times, this is in big ways, like a feline motif that appears through­out a body of art­work. Oth­er times, it's small­er, but nonethe­less charm­ing. For instance: the cat that appeared with actor Mar­lon Bran­don in the open­ing scene of The God­fa­ther was quite the purrer. It was so loud, in fact, that many of Brando's lines had to be over­dubbed lat­er. Ah, the pow­er of cats.
This is not to say that men befriend­ing cats is with­out stig­ma. Sam address­es this in his intro, What is a Cat Man? "Women have, for cen­turies," he writes, "been chid­ed and maligned for hav­ing a cat, let alone sev­er­al. This 'crazy cat lady' stereo­type is deeply unfair. Like Prometheus to fire, gen­er­a­tions of enlight­ened fel­lows have grav­i­tat­ed to the feline species. We stand with our cat-lov­ing sis­ters as crazy cat men, proud­ly wear­ing our scar­let let­ters in sol­i­dar­i­ty."
My cat, Pauline, sits behind me as I write this. My oth­er cat, Sadie, is else­where in my home, sur­vey­ing her king­dom. To say I'm a cat per­son is an understatement—so it's no sur­prise that I through­ly enjoyed this book. I first learned about Of Cats and Men when it was a project for Sam's MFA pro­gram at FIT; I've enjoyed see­ing how it has evolved since then. As always, his illus­tra­tions are impec­ca­bly paint­ed, and I love the retro-inspired style that he's devel­oped and refined over time.
Of Cats and Men goes on sale on April 18. That's plen­ty of time to buy this book for your cat-lov­ing dad for Father's Day! In the mean­time, check out some of the spreads and illus­tra­tions below.
Of Cats and Men is a new book written and illustrated by Sam Kalda. It profiles 30 notable "crazy cat men" who found muses in fabulous felines.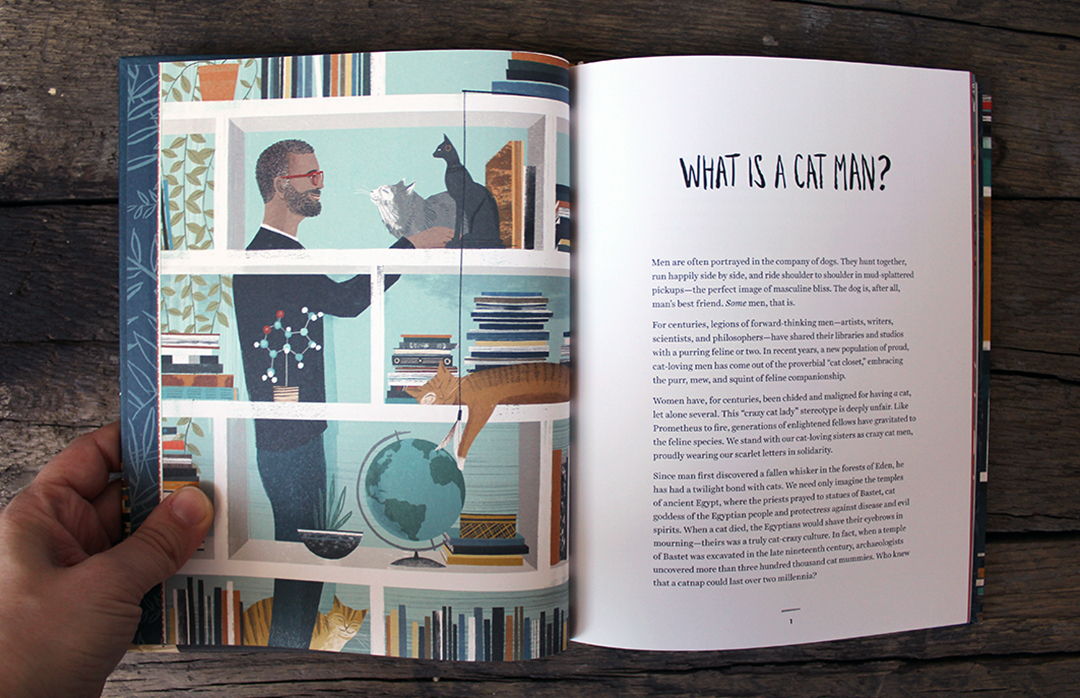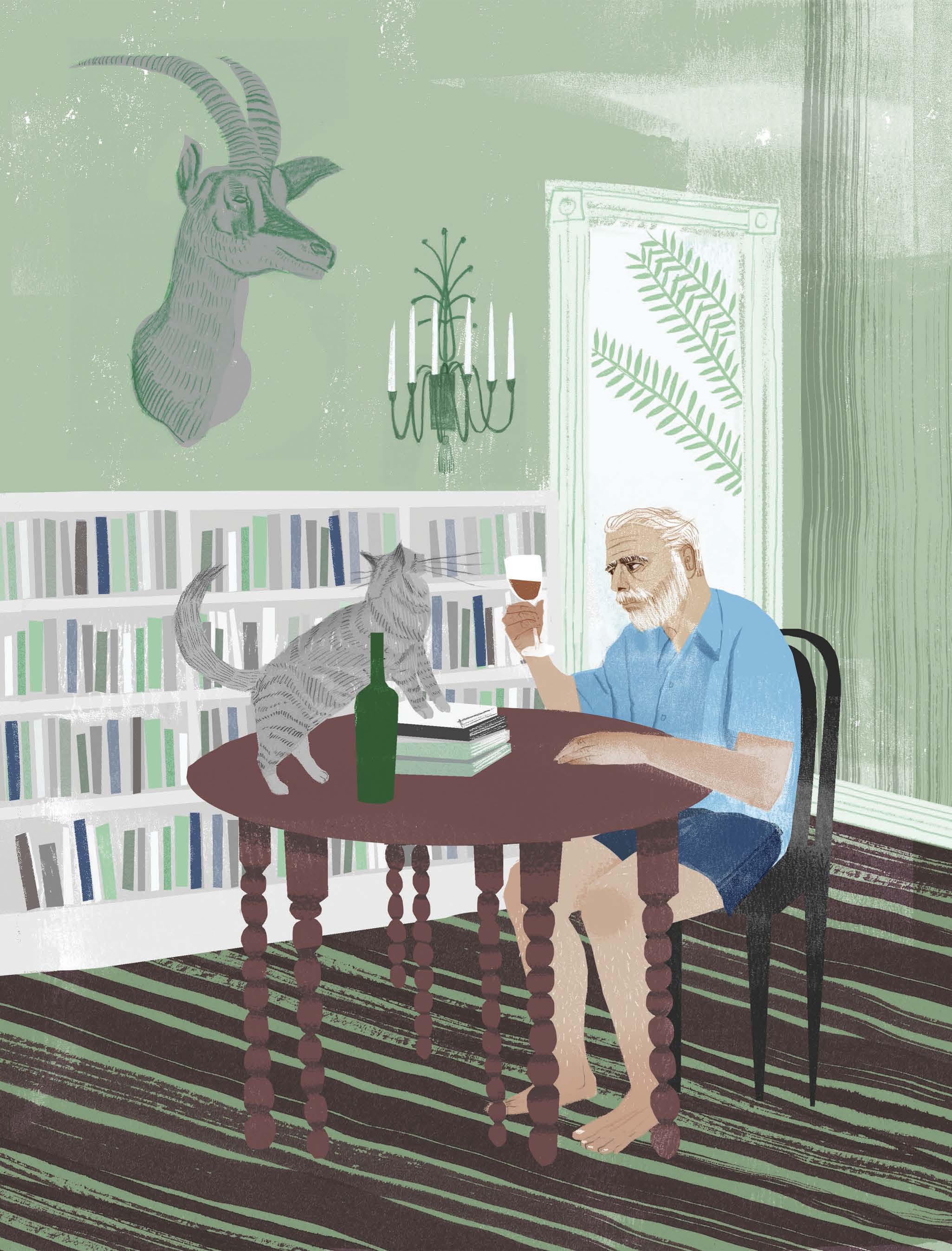 Ernest Hemingway
T.S. Eliot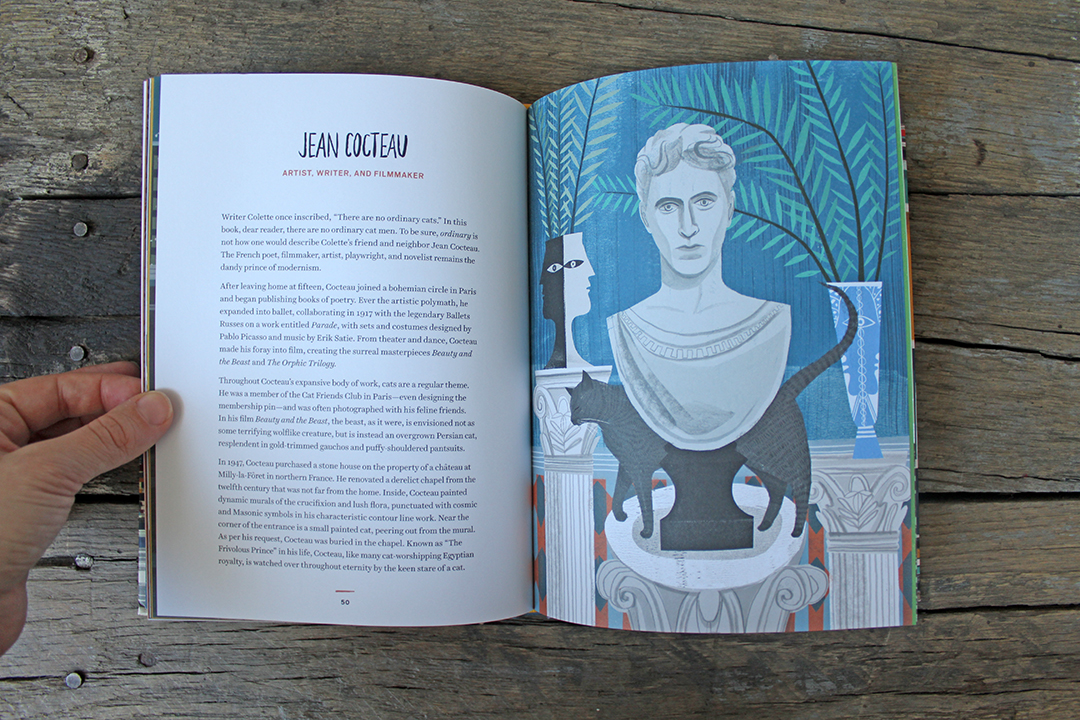 Raymond Chandler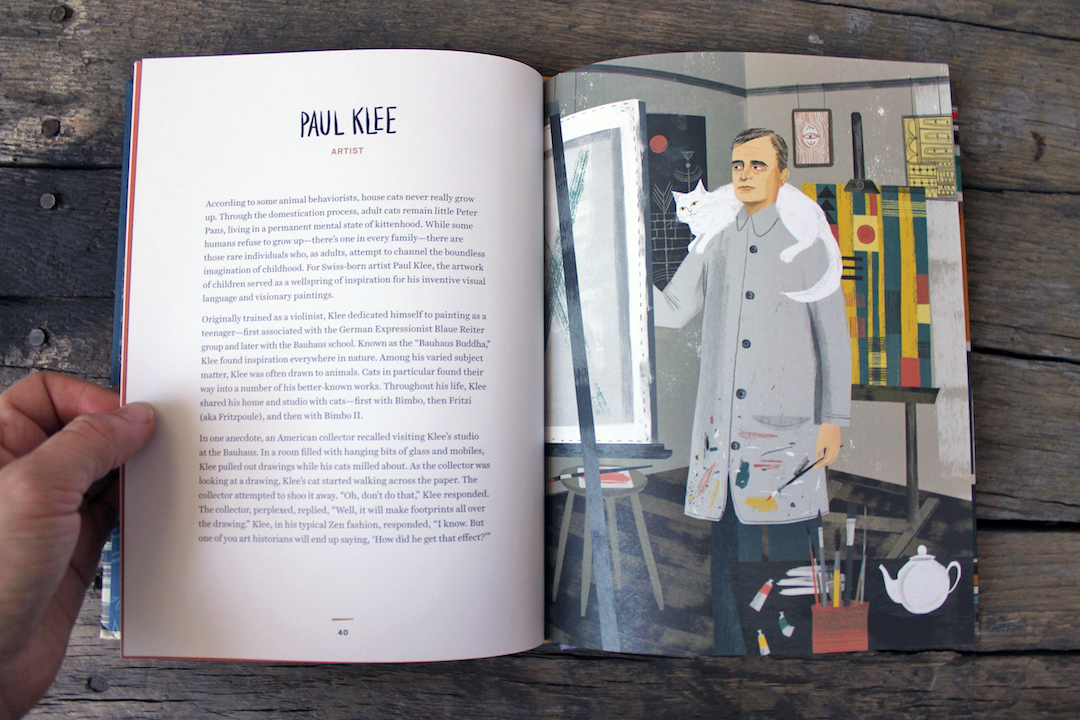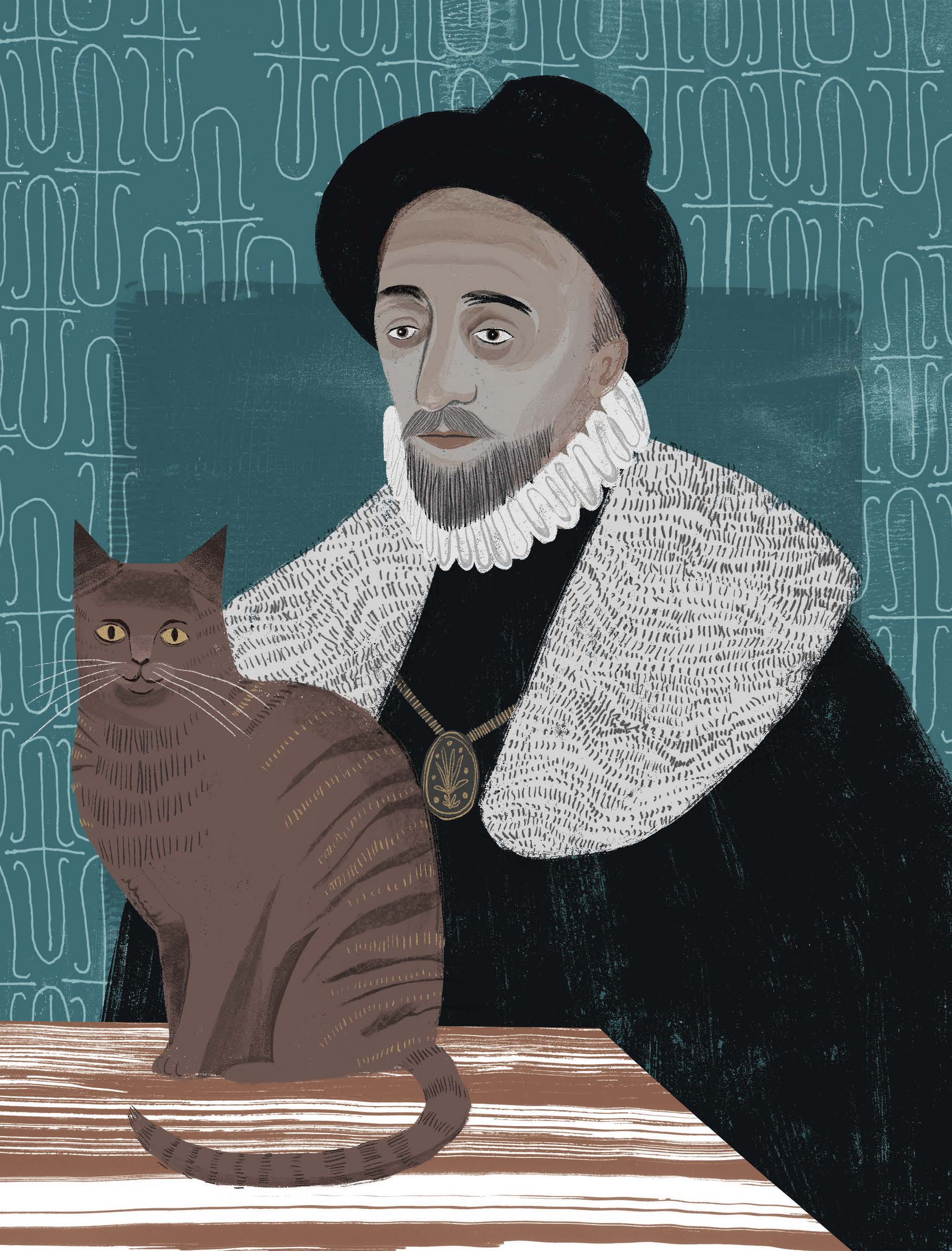 Michel de Montaigne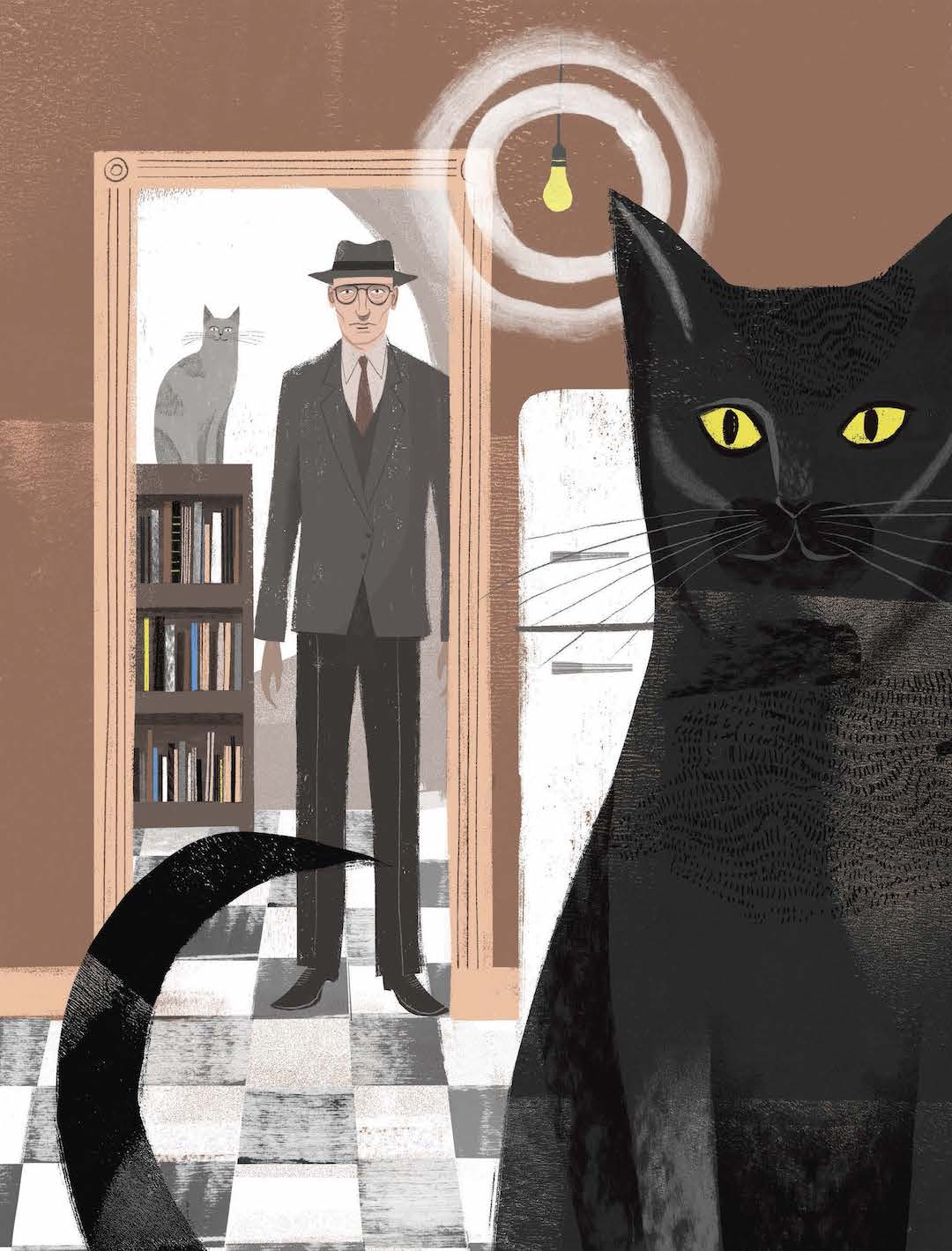 William Burroughs
Illustrations (not photographs of the book itself) are reprinted from Of Cats and Men Copyright © 2017 by Sam Kalda. Published by Ten Speed Press, an imprint of Penguin Random House
LLC

.