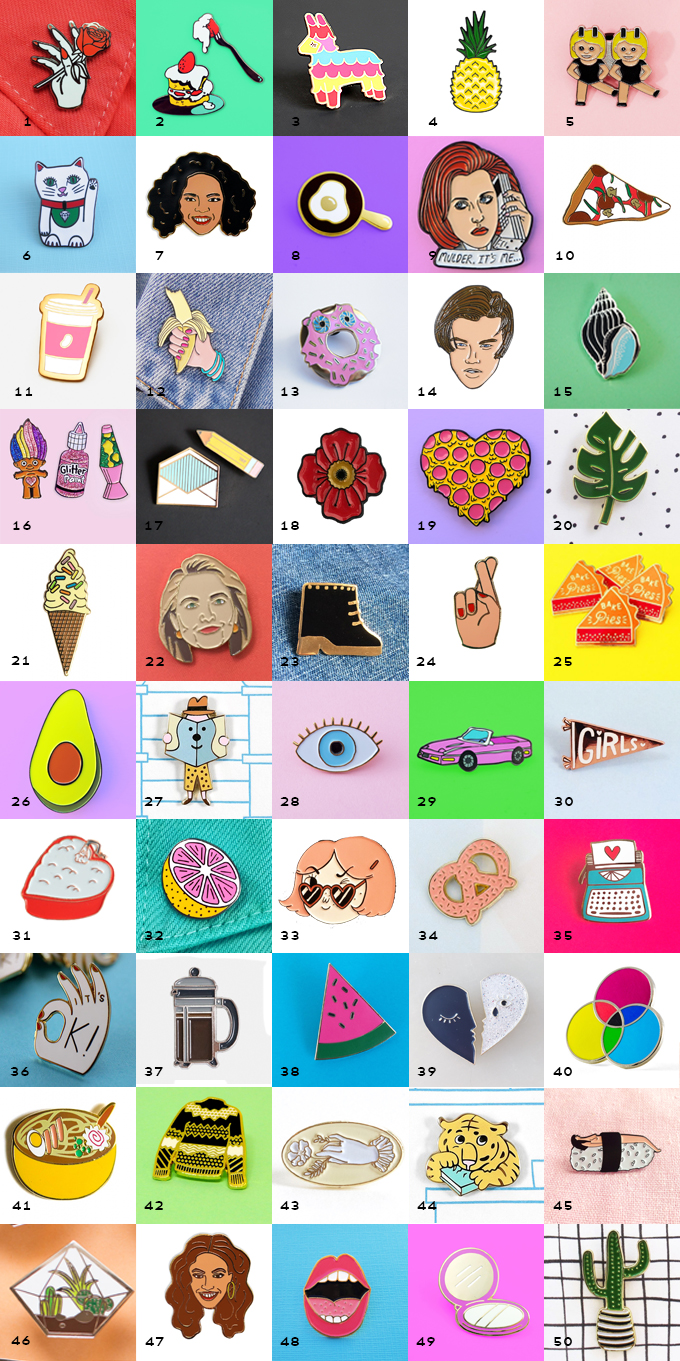 1. Big Bud Press 2. Big Bud Press 3. City of Industry 4.Felt Good Co. 5. ban.do 6. Buried Diamond 7. Georgia Perry 8. Big Bud Press 9. Robin Eisenberg 10. Greenwich Letterpress 11. Bean It 12. Coucou Suzette 13. Buried Diamond 14. Rosehound Apparel 15. We Are Out of Office 16. Laser Kitten 17. City of Industry 18. Explorer's Press 19. Robin Eisenberg 20. This Way to the Circus 21. Greenwich Letterpress 22. The Found 23. Jordan Sondler 24. Georgia Perry 25. Darling Distraction 26. Robin Eisenberg 27. Evah Fan 28. ban.do 29. Big Bud Press 30. Tuesday Bassen 31. Hello Holiday 32. Big Bud Press 33. Tuesday Bassen 34.NuNu Made 35. The Uncommon Place 36. Life Lessons 37. The Mayven USA 38. McKean Studio 39. H.K.M. 40. These Are Things 41. Greenwich Letterpress 42.Marta Ryczko 43. Jessica Roux 44. Evah Fan 45. Amy Victoria Marsh 46. Finest Imaginary 47.Georgia Perry 48.Coucou Suzette 49. Big Bud Press 50. This Way to the Circus
I love enamel pins. They've been around forever, but within the last year or so have had a renaissance in a big way. Now, there are a ton of brands, artists, and illustrators creating their own collectable pins, everything from celebrity portraits to food to emojis. It's precisely what I love about this trend—the creative possibilities are endless!
I've compiled a list of 50—yes 50—illustrative pins to own. Whether you have many pins or none, hopefully this will help you get your #pingame right.
I normally wear my pins on my denim jacket or on a shirt collar, but I love this idea, below. I have an old purse that'd be the perfect place for a pin collection!