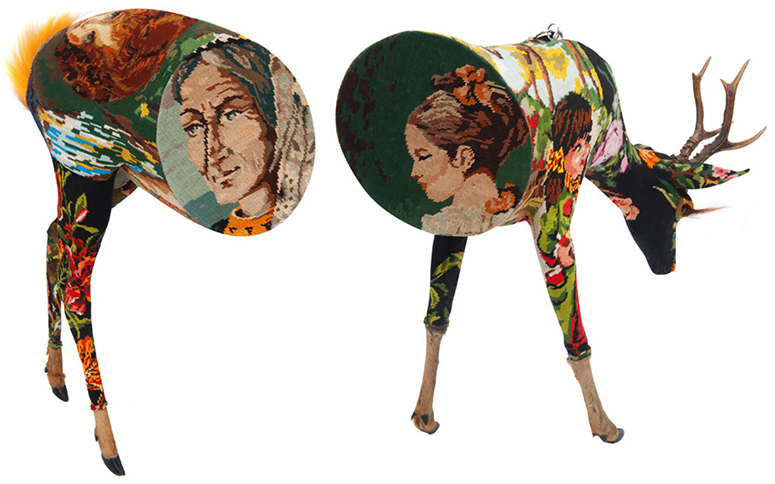 French artist Frédérique Mor­rel com­bines tapes­try and taxi­dermy to cre­ate fresh and unex­pected works. Deer, moose, and cat­tle tell vibrant sto­ries on their new skin that fea­tures a dizzy­ing array of col­ors, pat­terns, and peo­ple. I've always been fas­ci­nated by both taxi­dermy and tapes­tries, so the fusion of the two is excit­ing to see.
But, many peo­ple don't think of these crafts as things that are wor­thy of atten­tion. Frédérique's artis­tic phi­los­o­phy rec­og­nizes this and tries to change it. She writes:
These tapes­tries are telling the sto­ries of these key and essen­tial casualties:

- loss of sale value : these tapes­tries are expen­sive (mate­r­ial and time con­sum­ing), but worth peanuts.
– loss of aes­thetic value : these tapes­tries are con­sid­ered ugly and out of date, but have their own hid­den beauty, par­tic­u­larly for those who are them.
– loss of emo­tional value : these tapes­tries are telling love and fam­ily hap­pi­ness sto­ries, but are aban­doned and thrown into mud.

I revi­tal­ize them, offer­ing a redemp­tion, beneath ani­mal appear­ance and cov­ered with this pop­u­lar lan­guage. I give them back their cen­tral and essen­tial place inside households.