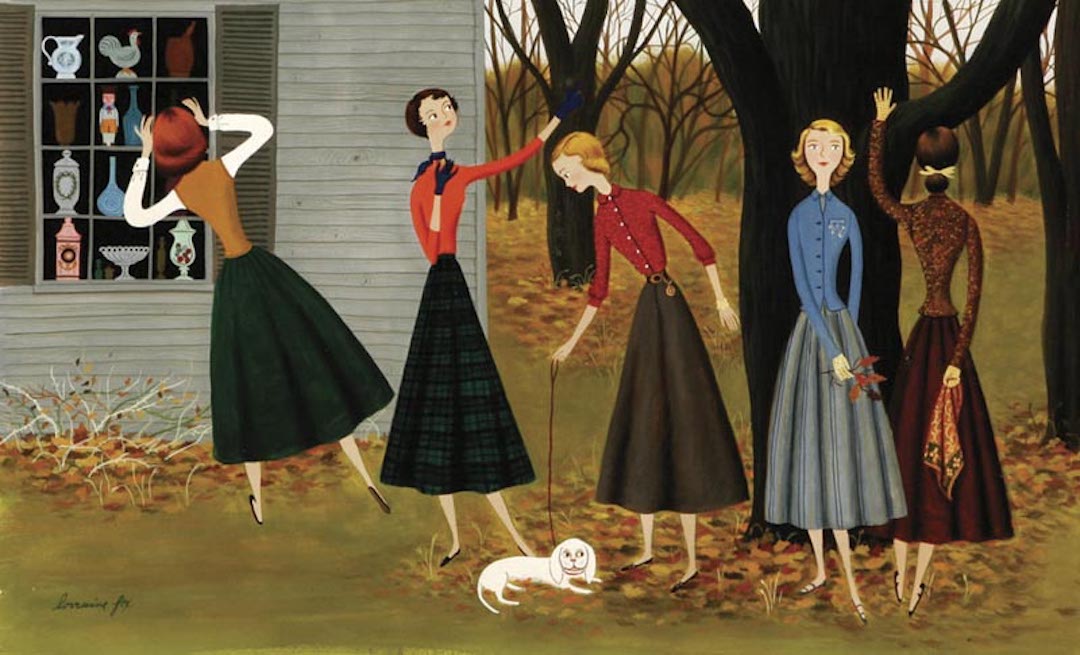 A few weeks ago, I debuted a #TBT series that'll focus on illus­tra­tion pro­duced long ago. Next up is Lor­raine Fox was an edi­to­r­i­al illus­tra­tor whose work graced mag­a­zines, book cov­ers, and adver­tise­ments dur­ing the mid 20th cen­tu­ry. She was described a stand­out in a "field over­bear­ing­ly pop­u­lat­ed by men."
Art had an ear­ly place in Lorraine's life, and the endeav­or was sup­port­ed by her parents—especially her moth­er, who took a job clean­ing hous­es to help pay for school­ing. Thanks to her, both Lor­raine and her both­er Gil were able to have accom­plished careers in illus­tra­tion (Gil was a com­ic book artist.)
After grad­u­at­ing from Pratt, Lor­raine got a job in the adver­tis­ing field. "I got my first job in an agency," she told Famous Artist mag­a­zine in 1967. "The man I worked for would say, for exam­ple, 'We have a med­ical thing we want to sell here,' and he'd give me the head­line and I was sup­posed to come up with a dozen fast sketch­es, but I was not real­ly an idea lady. Instead, I would get an idea I liked and fin­ish com­plete­ly and care­ful­ly. He final­ly said that I should get an agent and free-lance."
Lor­raine says she didn't have any trou­ble get­ting an agent. "I sup­pose you could call the kind of thing I did 'dec­o­ra­tive design.' It leaned toward the prim­i­tive and peo­ple liked it." She paint­ed mag­a­zine cov­ers and pic­tures of food but was "con­stant­ly annoyed." Lor­raine explains, "Peo­ple would look at my work and say, 'How cute,' or 'How fem­i­nine.' I'd kind of smile and say, 'Thank you.'" She'd ask her­self, "Why can't I be more of an artist?"
It's about this time that she joined the Charles E. Coop­er stu­dio—the place for com­mer­cial art at the time. (Her hus­band, Bernie D'Andrea was also a mem­ber.) Despite being a male-dom­i­nat­ed set­ting, Lor­raine broke through the "boys club," and con­tin­u­al­ly honed her style.
Mur­ray Tin­kel­man, the Direc­tor of the MFA pro­gram in Illus­tra­tion at the Uni­ver­si­ty of Hart­ford, was Lorraine's friend and fel­low Coop­er stu­dio mate per­haps best describes her work: "Lor­raine lived in… that world of dec­o­ra­tive illus­tra­tion. It wasn't quite car­toon­ing, it wasn't quite nar­ra­tive illus­tra­tion, it was a kind of sym­bol­ic illus­tra­tion that depend­ed on folk art as a root source."
To see more of Lorraine's work, check out Leif Peng's amaz­ing Flickr account. It's where I sourced all of these images.