A few weeks ago, I wrote about Han­nah Claire Somerville's ambi­tious 365-day project called 1 Year of Stitch­es. The name says it all—each day, she adds at least one stitch to the same embroi­dery hoop. Through­out the year, the design grows and grows, tak­ing on a life of its own inside of this cir­cle. In addi­tion to the stitch­es, each day is chron­i­cled via Insta­gram and includes a short post. It's a com­pelling pub­lic diary of sorts.
I've thought a lot about Hannah's project and decid­ed that I want 2017 to be my 1 Year of Stitch­es. Han­nah has always invit­ed peo­ple to join her, and yes—I will take her up on the offer! I heard from many of you through my week­ly newslet­ter that you'd be inter­est­ed in work­ing on it, too.
So, let's do it! Let's make 2017 the year of embroidery.
Getting started will require just a few tools: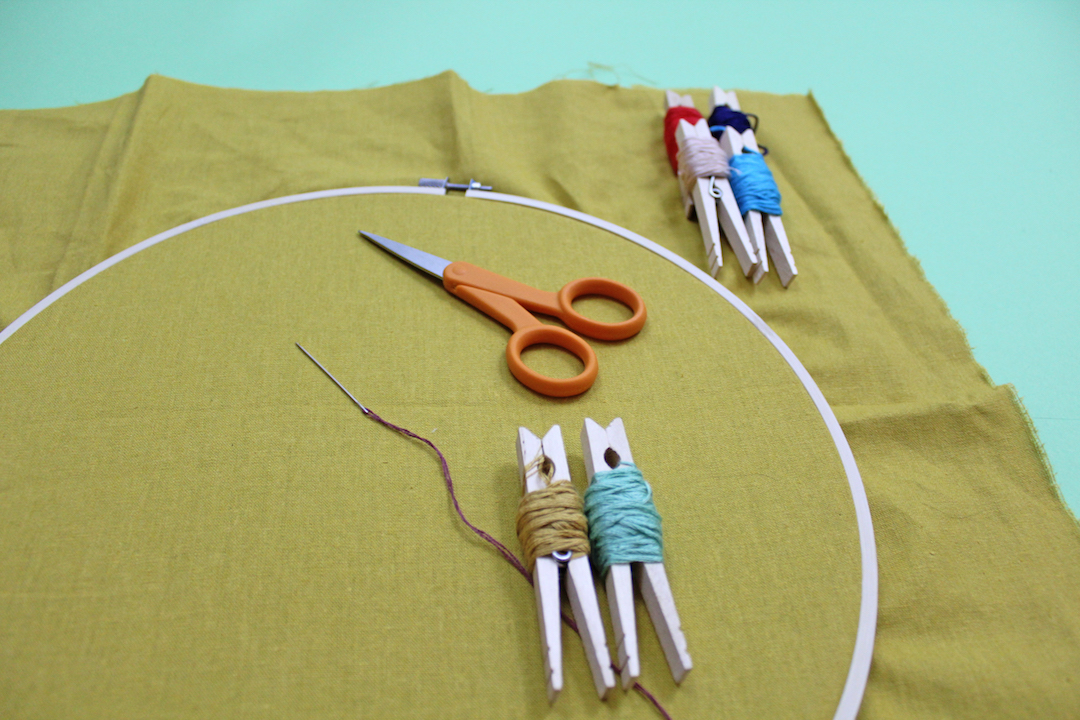 An embroi­dery hoop. They range in size, but I decid­ed on a 12″ diam­e­ter. It's large enough to accom­mo­date a year's worth of stitch­es, but small enough for easy trans­port.
A sewing nee­dle. Our a cou­ple… I always seem to lose mine.
Fab­ric. I'd opt for some­thing with­out pat­terns and is cot­ton. Han­nah sewed on a neu­tral fab­ric, but I like the idea of work­ing with col­or! The choice is yours.
Embroi­dery floss. Get a range–there are so. many. col­ors.
Project guidelines:
Make at least one stitch every day. (If you can't do this, at least take a pic­ture of it that day)
Take a pic­ture that shows your project. Don't get dis­cour­aged if progress looks slow (or not at all).
Date your pic­ture and write a sen­tence (or a few words) about the embroi­dery or your day.
Share online—through social media or a blog. Tag it with: #1yearof­stitch­es; @1yearofstitches.
First and fore­most, this is a per­son­al project—so you do you. It's a dai­ly endeav­or and should be woven into the fab­ric of your day, but some days will be hard­er than oth­ers. If you can't make a stitch, don't beat your­self up over it! But still try and include a pho­to and short sen­tence about your day.
Engage with other #1yearofstitch'ers!
[EDIT, Jan­u­ary 3]: Since Jan­u­ary 1 has passed—although you can start at any time, as long as you stitch for 365 days—here's a com­pre­hen­sive guide to the project. It has links and resources that'll get you start­ed.
Look­ing for­ward to stitch­ing with ya'll!