A few weeks ago, I wrote about Hannah Claire Somerville's ambitious 365-day project called 1 Year of Stitches. The name says it all—each day, she adds at least one stitch to the same embroidery hoop. Throughout the year, the design grows and grows, taking on a life of its own inside of this circle. In addition to the stitches, each day is chronicled via Instagram and includes a short post. It's a compelling public diary of sorts.
I've thought a lot about Hannah's project and decided that I want 2017 to be my 1 Year of Stitches. Hannah has always invited people to join her, and yes—I will take her up on the offer! I heard from many of you through my weekly newsletter that you'd be interested in working on it, too.
So, let's do it! Let's make 2017 the year of embroidery.
Getting started will require just a few tools: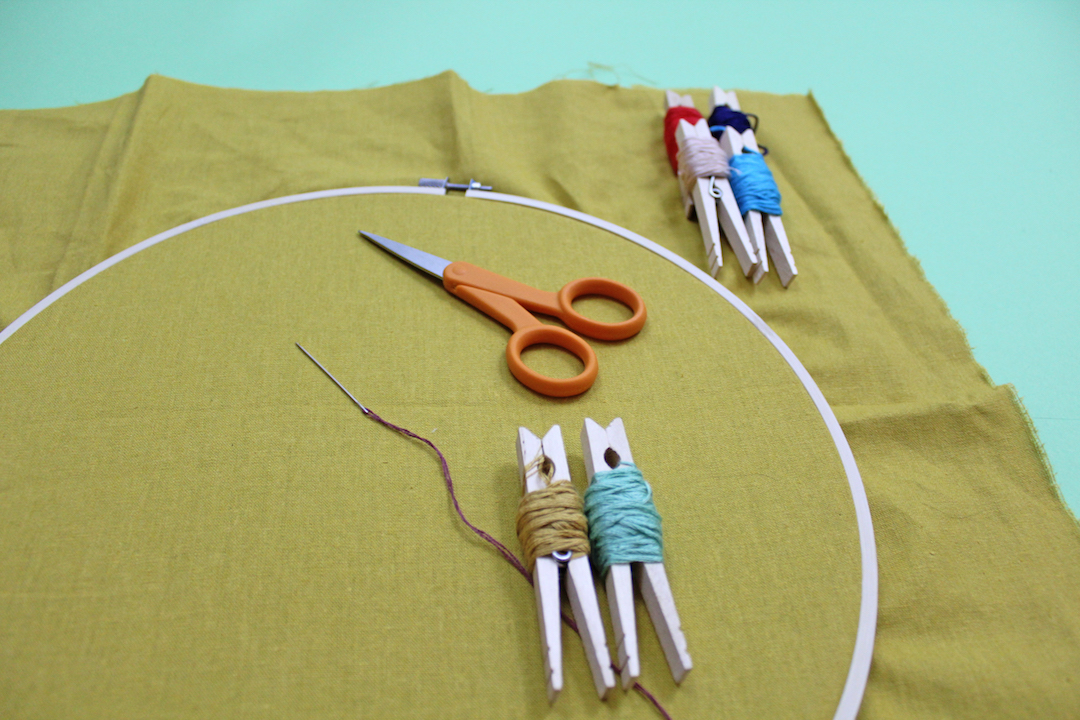 An embroidery hoop. They range in size, but I decided on a 12″ diameter. It's large enough to accommodate a year's worth of stitches, but small enough for easy transport.
A sewing needle. Our a couple… I always seem to lose mine.
Fabric. I'd opt for something without patterns and is cotton. Hannah sewed on a neutral fabric, but I like the idea of working with color! The choice is yours.
Embroidery floss. Get a range–there are so. many. colors.
Project guidelines:
Make at least one stitch every day. (If you can't do this, at least take a picture of it that day)
Take a picture that shows your project. Don't get discouraged if progress looks slow (or not at all).
Date your picture and write a sentence (or a few words) about the embroidery or your day.
Share online—through social media or a blog. Tag it with: #1yearofstitches; @1yearofstitches.
First and foremost, this is a personal project—so you do you. It's a daily endeavor and should be woven into the fabric of your day, but some days will be harder than others. If you can't make a stitch, don't beat yourself up over it! But still try and include a photo and short sentence about your day.
Engage with other #1yearofstitch'ers!
[EDIT, January 3]: Since January 1 has passed—although you can start at any time, as long as you stitch for 365 days—here's a comprehensive guide to the project. It has links and resources that'll get you started.
Looking forward to stitching with ya'll!