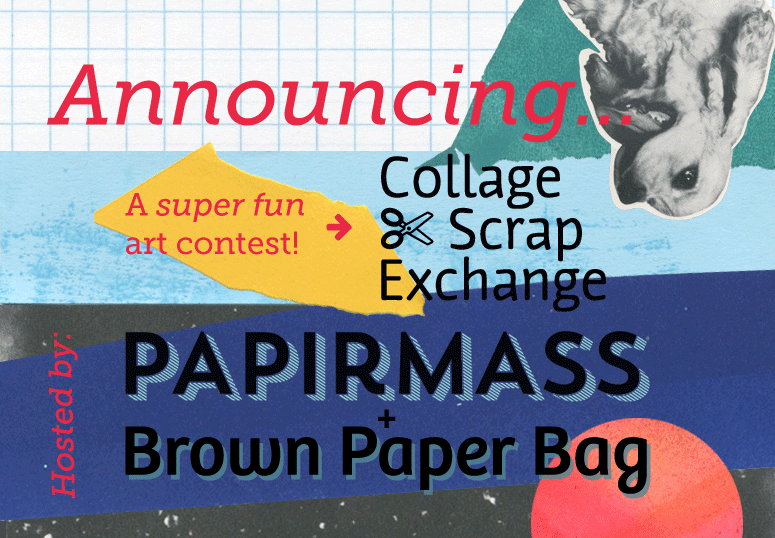 Do you make col­lage art? Do you have an abun­dance of paper scraps? If so, then you need to par­tic­i­pate in the Col­lage Scrap Exchange! It's a super fun art con­test that I'm host­ing with Papir­mass, a mail art sub­scrip­tion ser­vice (be sure to check it out, too!).
The premise is sim­ple: bun­dle up some of your favorite scraps and send them to your part­ner — anoth­er col­lage artist. They'll ship their scraps to you, and the two of you will have a whole new set of mate­ri­als to exper­i­ment and play with! Then, make art­work that fus­es both of your unique pieces.
How it works:
Sign up to par­tic­i­pate in the Col­lage Scrap Exchange (

CSE

) with the form below.
After Novem­ber 15, we'll match up col­lage part­ners.
You'll pack­age your scraps and mail 'em via snail mail to your part­ner.
Once you receive your col­lage partner's pack­age, make a col­lage using both of your scraps! Theme: New Land­scapes
Turn in your fin­ished art­work before the Feb­ru­ary 15, 2015 dead­line.
Win a prize package worth over $250!
$125 cash prize
2 free sub­scrip­tions for Papir­mass
Get your work pub­lished in an issue of Papir­mass!
Project theme: New Landscapes
Deadlines:
Sign up until Novem­ber 15, 2014
Art­work must be received by Feb­ru­ary 15, 2015
All are wel­come to par­tic­i­pate, so please pass this along to a friend! I can't wait to see what you come up with.
EDIT:
Sign ups for the Col­lage Scrap Exchange are now closed. If you missed the dead­line, don't wor­ry — the col­lage con­test will be back!