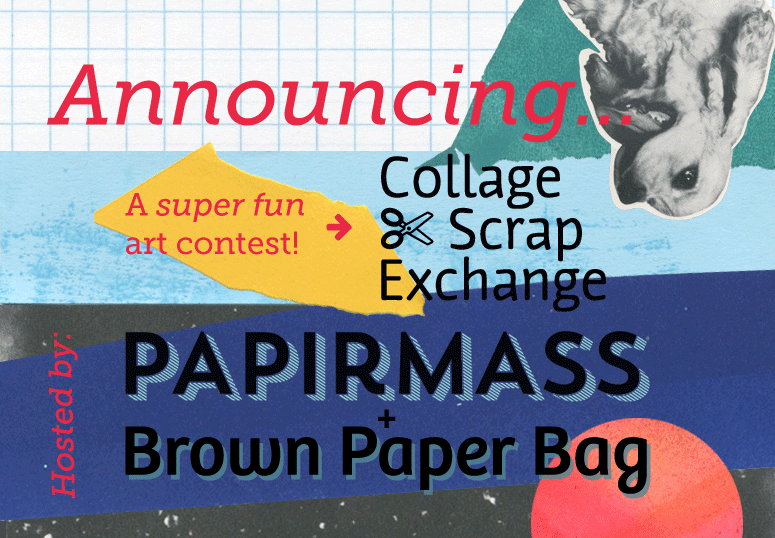 Do you make collage art? Do you have an abundance of paper scraps? If so, then you need to participate in the Collage Scrap Exchange! It's a super fun art contest that I'm hosting with Papirmass, a mail art subscription service (be sure to check it out, too!).
The premise is simple: bundle up some of your favorite scraps and send them to your partner – another collage artist. They'll ship their scraps to you, and the two of you will have a whole new set of materials to experiment and play with! Then, make artwork that fuses both of your unique pieces.
How it works:
Sign up to participate in the Collage Scrap Exchange (CSE) with the form below.
After November 15, we'll match up collage partners.
You'll package your scraps and mail 'em via snail mail to your partner.
Once you receive your collage partner's package, make a collage using both of your scraps! Theme: New Landscapes
Turn in your finished artwork before the February 15, 2015 deadline.
Win a prize package worth over $250!
$125 cash prize
2 free subscriptions for Papirmass
Get your work published in an issue of Papirmass!
Project theme: New Landscapes
Deadlines:
Sign up until November 15, 2014
Artwork must be received by February 15, 2015
All are welcome to participate, so please pass this along to a friend! I can't wait to see what you come up with.
EDIT:
Sign ups for the Collage Scrap Exchange are now closed. If you missed the deadline, don't worry – the collage contest will be back!