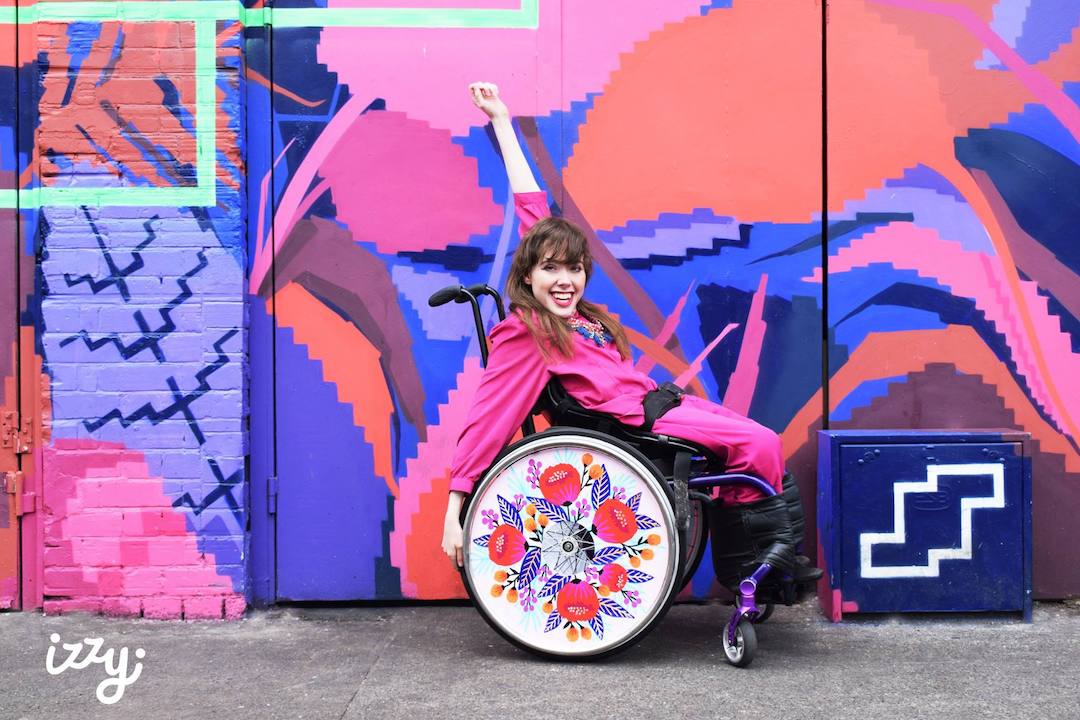 Illus­tra­tion is every­where ya'll, even in places you wouldn't sus­pect. For those with lim­it­ed mobil­i­ty, it affords them an oppor­tu­ni­ty to express them­selves. Izzy Wheels is a shin­ing exam­ple of this; they adorn wheel spokes with col­or and pat­tern­ing to bring anoth­er dimen­sion to oth­er­wise ordi­nary chairs.
Cre­at­ed by Izzy and Aib­he, two sis­ters in Ire­land, Izzy was born with a spinal con­di­tion called Spina Bifi­da. It left her par­a­lyzed from the waist down. "Grow­ing up," they write, "it [had] always frus­trat­ed her how few options were avail­able for her to per­son­al­ize her wheel­chair."
While Aib­he was in her final year of art school, she cre­at­ed a solu­tion to Izzy's wheel­chair woes. Aib­he pro­duced eye-catch­ing spoke guards for her sister's chair to reflect her "bub­bly per­son­al­i­ty." The project even­tu­al­ly grew into a larg­er endeav­or that aims to change the way we think about wheel chairs:
Our mis­sion with Izzy Wheels is to chal­lenge neg­a­tive asso­ci­a­tions with wheel­chairs and let users cel­e­brate their indi­vid­u­al­i­ty by per­son­al­iz­ing their source of inde­pen­dence. We want to show the world that wheel­chairs can be so much more than a med­ical device, they can be a piece of artis­tic self expres­sion.

Izzy Wheels empow­er wheel­chair users to make a state­ment about them­selves, it makes a per­sons wheel­chair into a friend­ly object rather than some­thing pure­ly func­tion­al. Hav­ing styl­ish wheels on your chair that match your out­fit or show off you inter­ests imme­di­ate­ly address­es the chair and opens con­ver­sa­tion. Our tag line is 'If you can't stand up, stand out!'
Now, Izzy Wheels offers a vari­ety of col­or­ful illus­trat­ed covers—many of them are by illus­tra­tors I've fea­tured on Brown Paper Bag. The designs are beau­ti­ful, and it seems like it'd be hard to buy just one. Luck­i­ly, each of the discs are sim­ple to install, so Izzy Wheel wear­ers can change them as often as their wardrobe.
See the entire selec­tion in the Izzy Wheel online shop, where part of a pur­chase is donat­ed to the Spina Bifi­da Hydro­cephalus Ire­land.
Izzy Wheels uses illustration to add another dimension to wheelchairs. The colorful spoke guards allow wheelchair users the chance to express their personalities.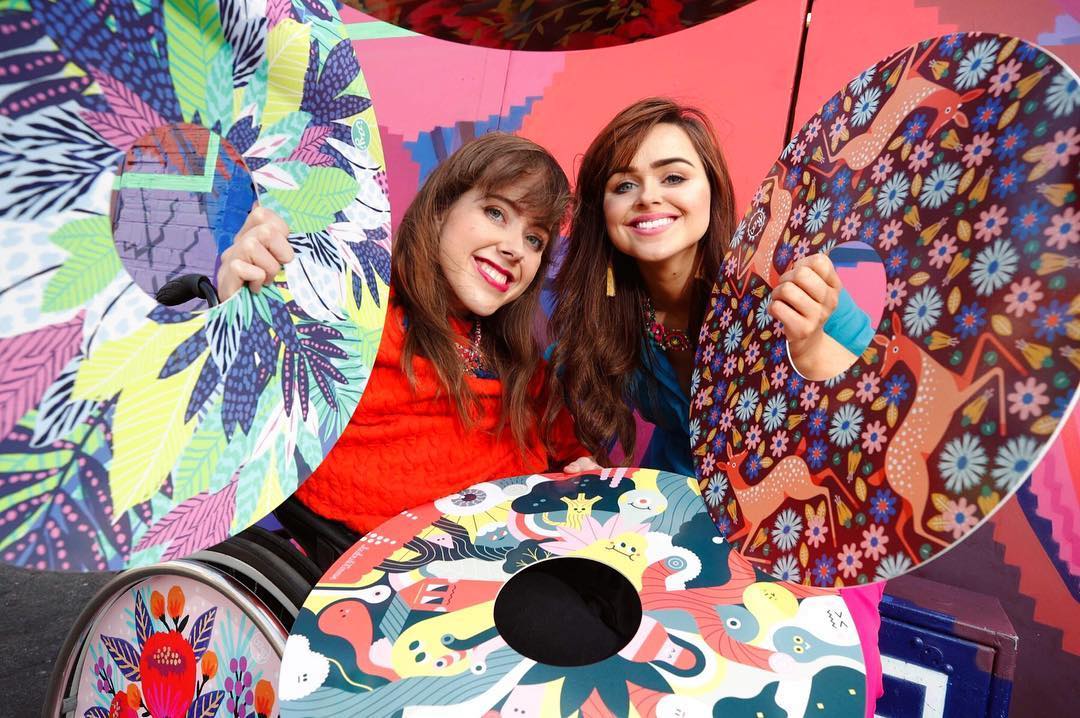 Izzy and Aibhe