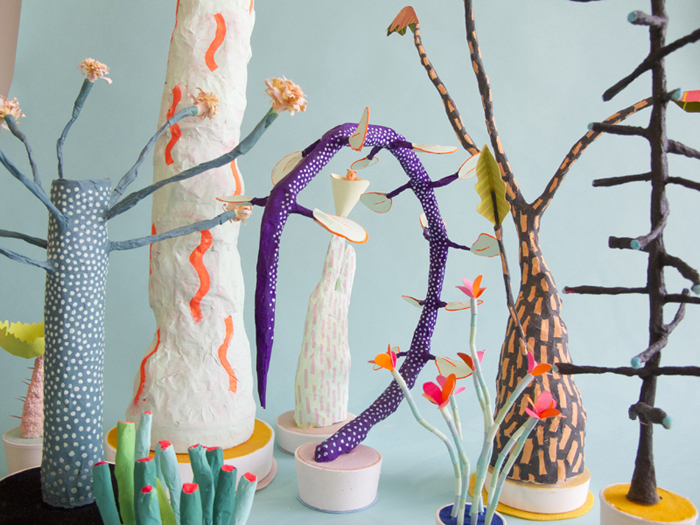 Adam Frez­za and Ter­ri Chiao are a col­lab­o­ra­tive duo who have been work­ing togeth­er since 2011. They explore play and craft among a range of media, and oper­ate a design stu­dio called CHIAOZZA and a guest room called A Cab­in in a Loft. I real­ly enjoy their series, Paper Plants, where they craft­ed a series of plants out of paper, plas­ter, wire, and more. The work is col­or­ful, imag­i­na­tive, and has me want­i­ng these plants to be avail­able to me. Here's a lit­tle more about the project, from their web­site:
Paper Plants exam­ines the ten­sion between nature and arti­fice made tan­gi­ble in the cul­ti­va­tion of plants. Cre­at­ed through var­i­ous paper-build­ing tech­niques, bright­ly col­ored sculp­tures of fic­tion­al plant forms read like three-dimen­sion­al botan­i­cal illus­tra­tions in an every­day land­scape. Inspired by the par­al­lels between hor­ti­cul­ture and art-mak­ing, the paper plants stem from a nat­ur­al desire to con­trol and beau­ti­fy that which could be con­sid­ered wild.
All images via their web­site.