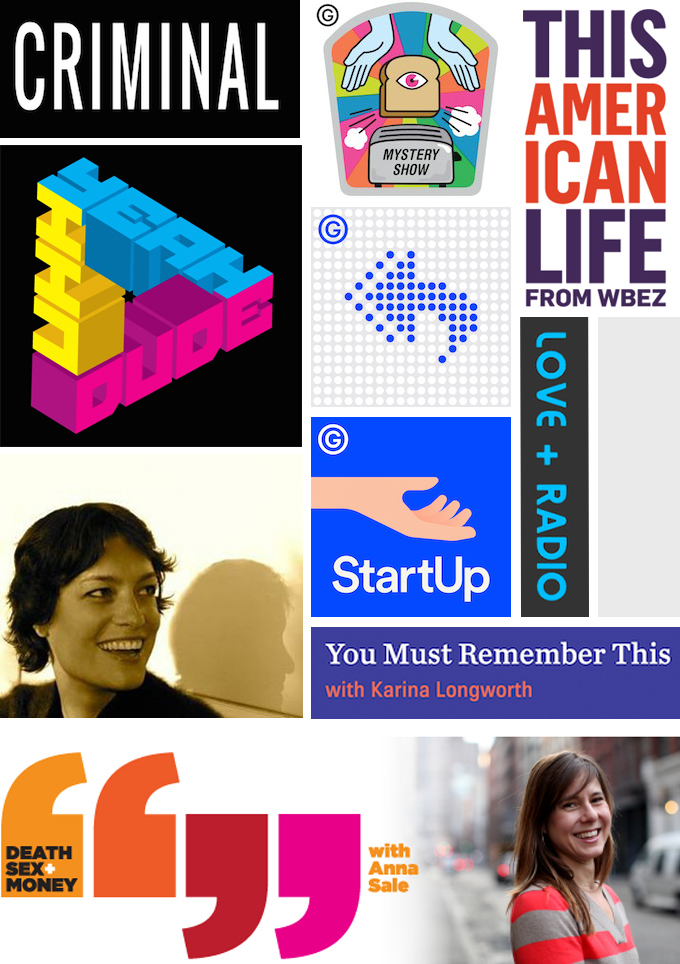 Illustration can be a lonely activity, but it feels infinitely less so when you listen to a great podcast! I currently subscribe to about 25, and the genres range from comedy to crime to interviews… and much more.
Here are 10 of my favorites — give 'em a try — and let me know the podcasts you enjoy! I'd love to create a giant list that we can all refer to when want to listen to something new.
In no particular order…
1. This American Life // TAL is the first podcast I ever subscribed to, and it's my Monday-morning ritual to listen to it. The episodes, which are different stories revolving around a central theme, will make you laugh, cry, and even contemplate your own mortality. Plus, Ira Glass is great.
2. Death, Sex, & Money // Host Anna Sale interviews people, both famous and not, about their lives, specifically about death, sex, and money. She has the incredible gift of getting people to open up and be vulnerable, which makes her interviews even more fascinating.
3. Strangers // Do/did you ever listen to The Moth? Lea Thau was its former director, and she started Strangers podcast featuring, "true stories about people we meet, the heartbreaks we suffer, the kindnesses we encounter, and those frightful moments when we discover that we aren't even who we thought we were…" This tale blew my mind: the teacher who couldn't read.
4. Reply All // This podcast's tagline is "A show about the Internet," but it's so much more. Many of the episodes start on the Internet, but go deeper and explore how we reconcile the online with basic human nature. Also, the banter between the hosts PJ and Alex is totally delightful.
5. Criminal // Criminal is a podcast about crime, often focusing on more "offbeat" wrong doings. One of their latest episodes was about people stealing petrified wood from a US National Park!
6. You Must Remember This // Do you enjoy film? If so, you've got to listen to this wonderful show. Karina Longworth explores the secret and/or forgotten histories of Hollywood's first century.
7. Love + Radio // It's hard to describe this story-telling podcast. The offbeat tales, often explicit in nature, are some of the most interesting things I've ever listened to. There's often little context in the episodes — they just begin, and you're left trying to figure out the details. I love it.
8. Mystery Show // This podcast is so much fun! Host Starlee Kine solves a new mystery each episode. The catch: it can't be something that can be solved by simply Googling the answer. As you might imagine, this sends her down some entertaining rabbit holes. "It's the journey not the destination" is an apt way of describing it.
9. Uhh Yeah Dude // Hosts Jonathan and Seth describe their show as "America Through the Eyes of Two American Americans." It's a funny current events podcast with great banter from two long-time friends.
10. StartUp // If you're interested in entrepreneurialism, StartUp is a great listen. Each season covers a new business, and you get an in-depth look at struggles and triumphs that go along with it. Totally not boring and you can learn a lot, too! Be sure to start from season 1.
So, what podcasts do you listen to? Let me know in the comments or on Twitter!